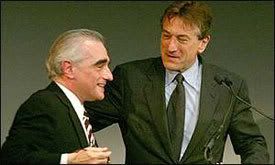 We say "Goodfellas 3," cause "Casino," was practically, part 2, no? [ed. someone is screaming heresy somewhere, but let's face facts people] Variety reports that Marty Scorsese and Bobby DeNiro are reteaming again for another organized crime mob film called, "I Heard You Paint Houses" (mob slang for contract killings.)

Paramount is abetting the plan and Steve Zaillian, the writer behind the grossly overrated (and not very good, "American Gangster" is writing the script.

The major difference this time out is that DeNiro will not play an Eyetalian American and instead will play, Frank "the Irishman" Sheeran, who apparently carried out more than 25 mob murders. Scorsese is obviously attached to direct.

The duo have not worked together on a feature film since "Casino" in 1995. Scorsese's next picture, "Shutter Island" (or maybe "Ashecliffe") is scheduled for October 2, 2009. Apparently the celebrated filmmaker has three films to choose from before he'll begin 'Houses' which include "Silence," "The Wolf of Wall Street" and "The Long Play," We'll admit that we haven't heard of any of them.