God, we're so behind on our script reviews, we've read a ton lately including the most recent version of "Watchmen," Cameron Crowe's 'Untitled,' Darren Aronofsky's possibly-next vehicle "The Fighter" and Guy Ritchie's take on "Sherlock Holmes" but the one we've really got on the brain at the moment is Dustin Lance Black 's "Milk" written for Gus Van Sant.

While its actually less striking than most of the aforementioned stories, its memorable and perhaps more importantly further reveals (more than just superficially) why "Milk" could be a heavy Oscar contender.

The juicier roles however go to less discussed minor characters. Diego Luna's flamboyant and hyper jealous Jack Lira character is something that could be a thrill to watch onscreen. Having minimal screen time, we're still heavily anticipating Josh Brolin's turn as Harvey Milk's disturbed (closeted?) assassin Dan White whose internal brooding in the script could end up being pretty chilling if played out right.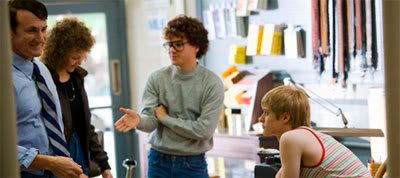 By contrast, award watchers like InContention are already banking on James Franco to take a Best Supporting nomination, but his character Scott Smith has little to do or chew on in the script aside from pout on the sidelines. Its Emile Hirsch's devoted Milk loyalist Cleve Jones who probably has the best shot at the supporting role, at least, according to his meaty role in the script that goes from young naive assistant to turning-confident gay-rights activist.

This sausage party has no chicks either (as you prolly expected) so aside from one lesbian campaign manager who joins the boys (Allison Pill plays Anne Kronenberg), don't expect a lot of feminine flavor — at least not coming from anything but queens.

If you haven't guessed, its a heavy pro queer story and it makes no bones about it, but there's a lot less explicit sex than we were led to believe which will make marginally less hateable for those movie goers in the Mid West who probably won't touch this thing with a twenty-foot pole (surely the gayness is toned down in the trailer cause this film won't play in the red states where gay marriage is viewed as an anathema).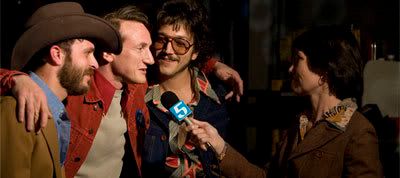 "Milk" the script, might not necessarily have the audacious or dazzling notes we're prone to enjoy, but it has that sort of classic Presidential reserve and grace that Oscar seems to love (there's one incredibly vivid scene however that's supposed to be an artful voting montage that feels like it was written specfically for Van Sant's artsy proclivities). If Van Sant keeps the cinematics to a "Goodwill Hunting"-like minimum he could find himself with another Best Director nomination come February. We'd frankly, like to see some of his aformentioned creative tones and textures, but this story doesn't seem to fit those kinds of aesthetics. Essentially, its classically structured screenplay with arcs that feel familiar without seeming predictable and banal.

Ultimately, "Milk" is about the life and times of Harvey Milk — his sacrifice for change — but it's also about salvation through belief (for the once heavy-closeted mayoral supervisor) and hope for the future of tolerance.