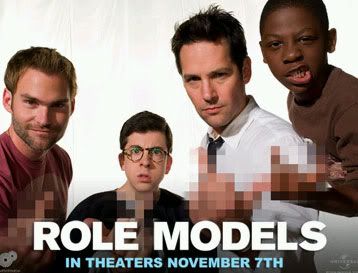 Yesterday we wrote David Wain and asked him if there was going to be a soundtrack to "Role Models," his upcoming comedy with Paul Rudd, McLovin' (Christopher Mintz-Plasse), Elizabeth Banks and Sean William Scott and he said, "hmm, probably not." We were bummed, but then we thought, hell. Well, what songs are in the movie? This way if you can get your hands on some of the tracks, you can make your own soundtrack. And well, Mr. Wain was kind enough to oblige. The film features a score and songs by Pete Salett ("Forgetting Sarah Marshall"), who we interviewed earlier this year, tracks by indie artists Cool Kids, and the Black Kids, rockers like Kiss, Studio K, ElO, and Lynyrd Skynyrd and even songs written and or just performed by Wain himself and Paul Rudd (who covers Kiss' piano tear-jerker "Beth"; we assume those will be a little hard to come by unless someone floats us some mp3s for people to preview, hint hint). Enjoy.


"ROCK YOU LIKE A HURRICANE"
Written by Rudolf Schenker, Klaus Meine, Herman Rarebell
Performed by Studio K

"LOVE TAKE ME DOWN (TO THE STREETS)"
Written by Charles Gansa and A.D. Miles
Performed by Joey Curatolo, Amy Miles and Charles Gansa
Produced by Charles Gansa

"ASS BUTT SONG"
Written by David Wain & Ken Marino
Performed by Bobb'e J. Thompson

"MY AIN HOOSE"
Performed by Allie Stamler

"LADISLAS OF LEISURE"
Written and Performed by Peter Salett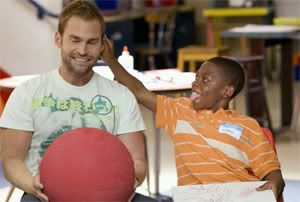 "LOVE GUN"
Written by Paul Stanley
Performed by KISS

"KUMBAYA"
Arranged and Performed by David Wain

"DANNY BOY"
Written by Weatherly, Samuels
Performed by A. D. Miles

"MR. BLUE SKY"
Written by Jeff Lynne
Performed by Jeff Lynne

"I'M NOT GONNA TEACH YOUR BOYFRIEND HOW TO DANCE WITH YOU"
Written by Black Kids
Performed by Black Kids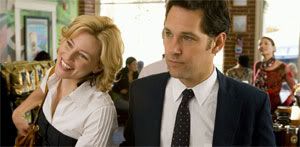 "CHEDDA"
Written by L. Fernandez, C. Bullock, B. Smalls
Performed by Big City

"88"
Written by Evan Ingersoll, Antoine Reed
Performed by The Cool Kids

"BEST BELIEVE WE GOT HIGH"
Written by P. Philips, L. Jones, R. Noble
Performed by Pete Rock Featuring LD

"BROKEN AND BENT"
Written and Performed by Peter Salett

"DETROIT ROCK CITY"
Written by Paul Stanley, Bob Ezrin
Performed by KISS

"CALL ME THE BREEZE"
Written by J.J. Cale
Performed by Lynyrd Skynyrd

"BETH"
Written by Peter Criss, Bob Ezrin, Stanley Penridge
Performed by Paul Rudd

Listen: Peter Criss of Kiss plays "Beth" on Halloween night.