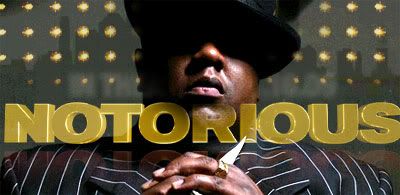 "What kind of grown-ass man calls himself Puffy?"

Ugh, we'd love to support "Notorious," the biopic of Christopher "Biggie" Wallace, aka dearly departed Brooklyn rapper Notorious B.I.G, but we're not sure this film, directed by George Tillman Jr. is going to cut it. Well, at least not by looking at his new trailer that kind of makes us wince. All the cliches are there: Puff Daddy (Derek Luke) and Biggie (Jamal Woolard) trying to take back the East Coast (Biggs: "Maybe in the right hands [beat]... I could be on of the greatest."), Mrs. Voletta Wallace (Angela Bassett) yelling at Biggie for not taking life seriously (the aforementioned and hilarious quote at the top) and more unintenionally hilarious Puffy ("By the time you're 21, I'll make you into a millionaire.")

What's worse, is having known all these people on TV, magazines and popular culture for years, one really can't help but giggle every time you see an actor trying to pull off these parts (again, particularly Luke, a great actor, but playing the take-himself-too-seriously Diddy is just deliciously funny, and obviously it's not meant to be).


"Can't change the world unless we change ourselves!" We could be wrong and hey, we'd be more than willing to admit it, but right now this looks like a movie of the week. "Notorious" hits theaters January 16, 2009. Synopsis:

In just a few short years, The Notorious B.I.G. rose from the streets of Brooklyn to become one of the most influential hip hop artists of all time. B.I.G. was a gifted storyteller; his narratives about violent life on the streets were told with a gritty, objective realism that won him enormous respect and credibility. His stories were universal and gave a voice to his generation.