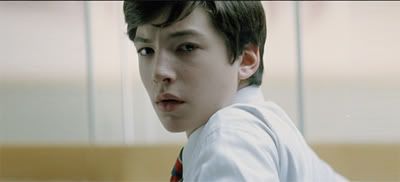 We just got back from two screenings at the New York Film Festival and wanted to bang out some quick thoughts on each film as we probably won't have time to write full-length reviews until next week at this busy rate.

It was interesting to note how both films seemed to embody cerebral and intellectual traits both from the aesthetics themselves and the filmmakers who crafted them, but while Lucreia Martel's "The Headless Woman" ("La Mujer sin cabeza") was a dizzying (and striking) portrait of a woman in distress that made one lose its equilibrium in moments, Antonio Campos teen prepschool brand of voyeurstic heady-ness felt rather cold and clinical at times. By design perhaps. "Afterschool"s themes of teenage alienation, desensitivity and omnipotent observation meant to leave the viewer feeling one pane of glass removed both emotionally and physically, but we can't say we enjoyed it as much as some critics did.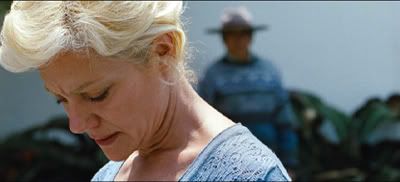 But screened at Cannes earlier this year and then celebrated at NYFF, the 25-year-old Campos is probably having a banner year no matter what anyone says about his film (including us) and the dude does show a lot or promise. Much like the egg-headed nature of early Atom Egoyan films that dealt almost exclusively with obsessive voyeurism, subjectivity vs. objectivity and the meaning of reality and memory via playback video, Campos' YouTube-y IYouth generation flicks plays with similar ideas surrounding our relationship to the constant overload of the moving image.

We definitely liked elements of the young directors use of negative space, clipped framing and ambient sound, but there definitely was small whiff of pretentiousness around the film and it's something that Slant also caught wind of when they wrote about the film around Cannes time. "Campos operates in two equally pretentious modes: the one that necessitates abstracting recognizable human emotion, letting the film coast on wonky aesthetic vibes and the one that requires repeatedly underlining his salient point about media saturation and the sense of mendacity it perpetuates with Haneke-ian admonishment." People have also thrown around comparisons to David Lynch circa "Mulholland Drive" and Gus Van Sant's "Elephant," but Egoyan is the director who chilly gaze sticks most in our mind (there's also shades of Harmony Korine's "Kids" without the trying-too-hard provocation)

It's interesting that Slant's Ed Gonzalez also saw a similar correlation with Lucrecia Martel's work (like we do in this piece), but then again he casts her work in an unfavorable light. Describing "Afterschool" he says, "like another borderline con artist, Lucrecia Martel, he often confuses ambiguity for depth."

We hear where he's coming from cause Campos film has some elements of pretention 101, but 'Headless Woman,' was a fascinatingly unnerving and purposefully disorienting picture and not like anything we've seen in a while. We can't wait to write about this one if further depth in the upcoming days. Both of them really were striking. And even when they failed (more Campos' picture), they're still challenging and hyper interesting enough to linger in the recess of your mind. 10.12.05 update. We may not have a chance to write full reviews, so in the interest of pocket-guide handiness now that we've digested the films a bit: The Headless Woman [A-], Afterschool [B-]

Trailer: "The Headless Woman"

Trailer: "Afterschool"