Damn, hold the phone! The Oscar season is being thrown apart and it's like musical chairs. Everyone has to rejigger their picks quick. "The Road" might be pushed to 2009, there's "The Reader," drama, and now "The Soloist" starring Robert Downey Jr. and Jamie Foxx has been officially pushed back to March 2009. Man, what a nutty season this has been so far.

The film's website still says it's set for a11.29.08. release date, but according to Variety late last night, Paramount has pushed the film back to March 13, 2009, which pretty much mean its Oscar hopes are over and that the studio probably didn't have much faith in it winning in the first place (and are probably going to concentrate their efforts on 'Benjamin Button' and "Revolutionary Road" instead).

DreamWorks had high hopes for the film and its Oscar potential and it's probably only a matter of time until someone says this is some dickmove on Parmount's part because of the split, but apparently, Robert Downey Jr. wouldn't have been around for press and junkets cause of shooting on Guy Ritchie's "Sherlock Holmes."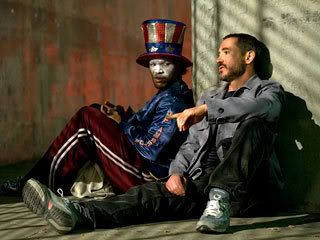 According to Variety, "DreamWorks declined comment, but insiders said brass are very disappointed by the move while conceding that it might benefit the film's box office prospects due to the competitive field of year-end films."

It may also have something to do with Paramount's recent announcement of scale-back plans to only release 20 films a year. That probably means only one film to deal with for the Oscars and putting your best and only foot forward instead of deluding your money across multiple Oscar campaigns.


Defiance Dead For Oscars Too?
Another Parmount film pushed back, but still in 2008, is Ed Zwick's "Defiance" starring Daniel Craig that was scheduled for a December 12th, and it now being pushed for a late-minute Oscar-qualifying run on December 31st according to DeadlineHollywood who also said the reasons for the 'Soloist' push are economic (which are the same reason for the Paramount scale-back, parent company Viacom is feeling the economy crunch like all of us). Hollywood Elsewhere seems to think that the "Defiance" move (it won't go wide until January obviously) signals the fact that it's dead in the water, Oscar-wise, and we're inclined to agree with his posit.