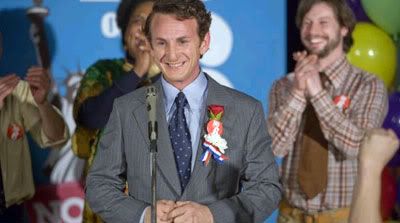 Even though there's supposed to be an embargo on "Milk" reviews, all the West Coast press who saw it Tuesday night went buck wild. We saw it before them on Monday, but kept our mouth shut. Now we feel like idiots for playing by the rules. Oh well. We did have a tipster preview of the film weeks ago before anyone else.

Echoing what most people have already said this morning, Oscar season has officially started with the screenings of Gus Van Sant's mostly terrific "Milk," his most affecting and mainstream effort since "Goodwill Hunting" (at least for the critics who gave up on him around the time of his experimental detour phase that started with "Elephant").

"Milk" is truly an ensemble cast, but as you may have expected, Sean Penn shines with his generously warm and compassionate portrayal of the charming and tirelessly committed gay activist and local politician Harvey Milk. Yes, an Oscar nomination has already been saved for him as we speak.


In fact, both Gus Van Sant, the writer Dustin Lance Black and the film itself probably have already secured themselves nominations in the Best Director, Writer and Picture categories respectively. "Milk" is moving, charitable, empathic and has a soft-hearted voice that carries a large and commanding stick.

Cinematographer Harris Savides' ("Elephant" "Birth," "American Gangster") remarkable work with natural light creates interesting '70s-like grain and texture and there's tons of subtle, but really creative camera work — the documentary-like lens that bumps around in and out of focus as Milk speaks to his supporters during an almost-riot, a lyrical snowfall of voting punch-hole circles to illustrate how people are voting for Milk in droves, and the on-the-phone, "I tell two friends" exponential multi-split-screen kaleidoscope reminiscent of "My Private Idaho."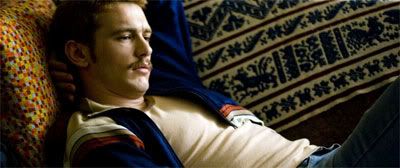 In fact tonally and aesthetically the film falls somwhere between 'Goodwill' and 'Private Idaho.' Yes, it's certainly Gus Van Sant's most classical and straight-forward work since the aforementioned Boston prodigy drama, but "Milk" is executed without sacrificing his signature stamp - there's subtle and little flourishes of his creative filmmaking touches that we haven't seen since his "Drugstore Cowboy," and 'Idaho' days. Generally, we're not huge fans of Danny Elfman (everything seems to have a circus-y bent he can't shake), but his mostly restrained and tasteful score of angelic vocal choruses is one of his most resonant since he last teamed with Van Sant.

Apropos of 1970s San Francisco, there's a lot of great disco in the film, plus little music moments with David Bowie's "Queen Bitch" and Sly and The Family Stone's "Everyday People." Trying to gauge who the Best Supporting Actor role might go to is tough: like we said, "Milk" is an ensemble piece and Josh Brolin, James Franco, Emile Hirsch and Diego Luna are all equally good, but if we had to give an edge to anyone it'd probably be Brolin and Franco, especially since the latter does a lot with little dialogue and just deep-moving facial expressions. It's a rare internal performance, but it'll probably be up to Focus Features to see who they actively campaign for. Our money is on either of those two.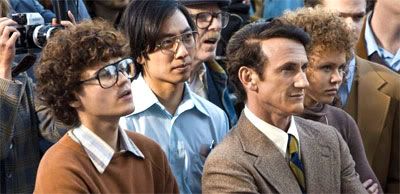 Note: no one likes to be an Oscar frontrunner this early and especially not a potentially controversial film about a gay activist that could receive some backlash, so the marketing campaign for "Milk" is decidedly subdued and restrained at the moment and this subtle tone will probably continue until around it's late November limited release and its December 5 wide-r release.

As for the rest of the critic world:

David Poland tried to weigh in first from his IPhone. "For the first time in my memory, we have a major Oscar movie that actually is a gay agenda movie. But on the making, it is so much more. It is a brilliant, powerfully humane piece of work that reaches well beyond the issue of gay rights or any idea that this is a gay-only film.Sean Penn gives an Oscar lock performance of power and subtlety that ranks with the best of his career."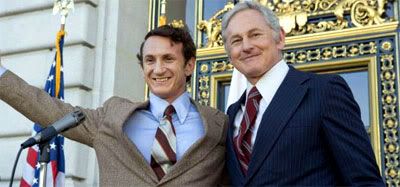 Kris Tapley wasn't as convinced as the rest, but still thought Penn and Brolin were aces. "I was more impressed by Josh Brolin's work than I expected, stepping into what could have been a flat villain role and really bringing some subtlety and layers. However brief the performance, I think it might be his best work to date."

Jeff Wells said he would give it an 8.5 if he were rating it out of 10 rating and that pretty much falls what we would say as well. It's great, but not perfect, perfect. But its humanity is undeniable and Wells agrees. "'Milk' cares, holds back, pushes through and gets it done. It's compassionate, exacting, precisely ordered and emotional in most of the right ways...Emile Hirsch and James Franco give the stand-out supporting perfs."

Put it this way, see you at the Oscars. "Milk" is the first real contender of the season and despite being out early, it'll be there come February, mark our words. It might not end up being the best film of the year (we can probably think of half a dozen international films we liked better), but in terms of Oscar worthiness in the Hollywood scheme of things: Penn, Black, Van Sant and Picture. If it's lucky, Savides will score a cinematography nod. It's not the typical, outdoors, panoramic cinematography that usually gets nominated, but it's still incredibly worthy. Hopefully his work is not overlooked.