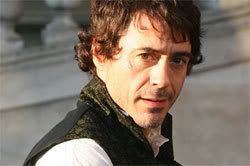 We just finished the Mike-Johnson-written script of "Sherlock Holmes" that's currently being shot by Guy Ritchie in London. At best it's fun, harmless romp through the Holmes mythos, revitalized for audiences assimilated with the 'Bourne'-style, action, smarts and authenticity vibe. At worst its "Pirates of the Caribbean" set in Scotland yard - mindless, escapist entertainment that's trite and hokey.

But the 'Bourne'-angle is how they draw you in. 'Sherlock 2000' (what we like to sardonically call it) is no more realistic than say 'Indiana Jones 3' (its not quite as ridic as 'Indy 4') and from we get from the script, we shouldn't expect anything much more than a fun PG-13-ish summer popcorn flick with a smidgen of edge unless Ritchie can really dig into this thing, but there's not a ton of depth to mine.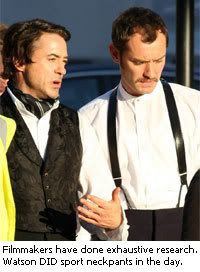 They promised action-adventure, so with that in mind, the writer has succeeded, but there would have to be a miracle for this thing to land even anywhere near the shoehorn of the Indiana Jones classic films or even "Romancing The Stone" (which granted, if it came out today, it'd be laughed out the door).

One can't help but hearken back to Catherine Zeta Jones' "Zorro," or the three's-a-crowd dynamic of the 'Pirates' series (which obviously isn't at all new).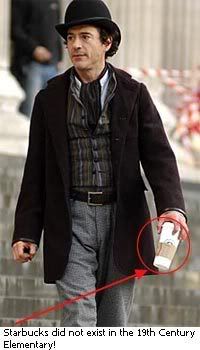 Like Johnny Depp in 'Pirates,' Robert Downey Jr. will probably make watching Holmes a lot of fun (for the first episode, err, franchise installment anyhow). The new Sherlock is a curious fellow who's not so stiff as past incarnation. He loves to get soused, to box in underground clubs for free and more than anything lives to to detect and do his job. The writer posit him as an aimless man who only comes alive when there's a serious riddle, challenge or villain to solve/tackle (and of course all three the better).

A old school cross between Batman and CSI (version 1.0) Holmes is almost MacGyver like in his seemingly impossible (and amusing) makeshift levels of deduction (Scratches on his door frame? He's an alcoholic cause he can't fit the key in the door soberly!)

His method of true detecting meditation - when it really counts! - is unintentionally hilarious. He squawks away on a violin, parsing his mind rapidly through the labyrinth of clues and possibilities and as he gets closer to solving the dilemma, the cacophonous music begins to subside and become smoother and listenable - of course it does, he's almost figured the complex riddle out! He knows where the bad guy is. Elementary my dear Watson!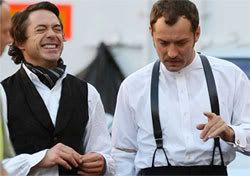 Watson 2000 (to be played by Jude Law) on the other hand wants out of the game, he's getting engaged and wants to free himself from the detecting racket despite the excellent asset he is. This friction between the two friends is a dynamic that vacillates back and forth, but you can surely figure out where it goes as its arc is all too predictable and even eye-rolling at times.

The semi-invented character of Irene Adler (Rachel McAdams; her character was only in one of the many Holmes stories) is basically a thorn-in-the-side script device. A rival of Holmes, their flirtatious relationship is a love/hate one and in this story its not immediately clear who's side she's on. The uber-crafty character is both ally and out for herself, but she's also a love interest... of course.

Finally, Mark Strong villain is pure comic-book evil. An occult leader and a seemingly super-human badguy. One dimensional or not the viciousness ("bad-assness" to geeks) of his character will surely appeal to less discerning audiences.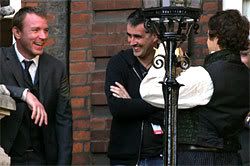 A lot of action adventure films have a hokey, whoa-what's-going-on! corny thrill ride vibe to them (we can't help but going back to 'Pirates') and "Sherlock Holmes" is no exception. The story is meant to begat a Mcfranchise (and look for a famous villain cameo near the end) and that means asses-in-seats and nothing too wild or edgy. Let's bring in the whole family and entertain them. So perhaps it's nothing more than it aims to be: a tentpole vehicle for next summer which is fair enough, we suppose, but even "Iron Man," proved you could make a smart and enjoyable popcorn flick, but on the page, there's not much here to suggest that kind of quality, spark or vitality (let's not even go there with 'Bourne', it can't hope to compare with even the worst of any three).

So a fresh new take on the series? We suppose. But make this new batch, extra large and don't hold back with the butter, please. Oh and nachos while we're at it too.