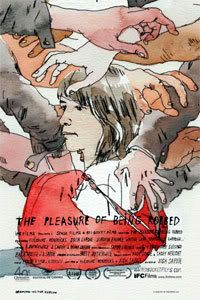 We're kind of dying to see this little IFC movie, "The Pleasures Of Being Robbed," but apparently the film was a little polarizing when is screened earlier this year.

Salon's Andrew O'Hehir:

"Let's be honest: "Pleasure of Being Robbed" drove a lot of people crazy at Cannes, including people whose tastes I respect. I could flatter myself by claiming that they didn't get it and I did, but things are never entirely that simple. What I saw as a challenging, open-ended emotional and psychological journey with an exasperating but irresistible character — something like a slacker-era blend of Bresson's "

Pickpocket

" and Godard's "

Breathless

" — struck other viewers as self-indulgent pseudo-rebellion."
Lord knows we love anything electric, like "Breathless" (see our "

Voy A Explotar

" review) and "Pickpocket" by Bresson is utterly fantastic, so we're kind of sold already. We got most of this post from AwardsDaily. We wanted to find other quotes, but their find of O'Hehir's Salon take pretty much says it all so kudos to them. If there wasn't more NYFF pictures to see this weekend, we'd probably see 'Robbed' on Sat or Sun, but it might have to wait another week.