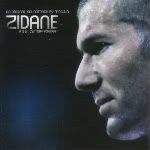 We just mentioned "Zidane A 21st Century Portrait" in our box-office report for this weekend. The film about French futbol (soccer you dolt) superstar is finally (!) coming out in North America which is long overdue for football fans because it was originally released in 2006 in Europe. Can you say slow-burning Mogwai score?

The film is supposed to be fabulous and we're going to see it tonight. Zizou, as his fans call him, kind of trainwrecked his career on the night of his most important match, his last, when he headbutted Italy defender Marco Materazzi in the final game of the 2006 World Cup. His impetuous move got him ejected from the game, France lost the world championship and Zidane ruined his last chance at ever winning the ultimate futbol match again. It was simultaneously a brilliant and heartbreaking moment (by all accounts, Materazzi's was brutally taunting him and he had it coming) and perhaps as dramatic as any moment ever in cinema.




Update: We saw it this weekend. Bad idea. It's a strange excercise in formalism and we suppose it was a little hypnotic if you're looking at it from an academic level, but it was pretty damn dull overall and we felt - a waste of our time. Perhaps if we would have rented it, it might not have been such a big deal, but we formally recant our pre-endorsement/excitement for this film. Next time we should read about the film before we actually go see it. Fortunately, Max Ophüls' re-remastered re-release of "Lola Montes" was some sort of consolation prize as far a weekend movie-going went.