Yes, for the ham n' egger nitwits out there (sorry, but it's true), this box-office weekend belongs to "High School Musical 3" and "Saw V" without a doubt. Estimates have them both reaping in about $30 million each (with HSM possibly going as low as $25 or as high as $45), which makes for a very healthy box-office haul monetarily, but still leaves you mentally and soulfully empty (the brainless and unwatchable-looking 'Saw V' has a hilarious 15% Rotten Tomatoes rating, when will people stop paying to see this dreck!)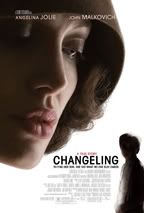 That's where we come in: suggestions to nourish your cinematic heart and soul. First up is probably Clint Eastwood's "Changeling," a film that's been divisive for critics and its rating is naturally mixed at 49%. It's elegantly well-made and crafted and is definitely supported by a strong Angelina Jolie performance, but it's exorbitant length and cliched, been-there melodramatic notes left us cold eventually.


Perhaps the really most polarizing film is Charlie Kaufman's "Synecdoche, New York." It has a decent 65% Rotten Tomatoes rating, but people seem to either hate it or love it and most people critic basically (and often condescendingly) believe you're a moron if you don't feel the same way they felt about (i.e., if you don't think it's pretentious and a mess, you're foolishly mistaking abstraction for profundity and conversely, if you don't think its kaleidoscopic-ness is brilliant, you just don't understand it cause you're an idiot). The heady film invokes a ton of heated and impassioned responses both negative and positive, which must, at the very least, be a compliment to the filmmaker who definitely makes you want to think.



We felt somewhere in the middle. Parts of 'Synecdoche' are staggering and we walked around in a punch-drunk daze after the film trying to absorb its prism of ideas and feelings. But elements of Kaufman's mindfark do drag in the second half and sometimes the film is just so damn depressing that it becomes an uphill slog that feels sluggish and grey. It's a film you have to see more than once, as its impossible to digest in one sitting, but we assume the majority of audiences aren't going to have that kind of patience. Balancing everything we admired and didn't necessarily love about the film, we gave it a grade somewhere in the middle. We love Jon Brion to death, but even his score didn't really move us this time.

We love what Jeffrey Wells just wrote about it. He calls his feelings towards the film, "complex, semi-enthused, slightly tortured" and that the movie is "undeniably interesting, densely layered." That succinctly sums up what our, and many other people's feelings are as well. And like some of the condescending critics, we can't help but feel that the people blindly loving this film are a little naive to not see its flaws. It's kind of about the suffering for art (or at least one of the things its about) so appropriately, we the audience have to suffer through some of it.


The most universally praised film of the weekend is the vampire drama, "Let The Right One In," which has a extremely positive 95% rating. We didn't love it that much, but it is good and the wintery, contemplative tones and thoughtful direction towards the teens' tender friendship outweighed most of the sometimes-silly vampiric elements.


The penultimately adored film is the family/post-prison drama, "I've Loved You So Long," that stars an unbelievably devastating Kristin Scott Thomas and equally mesmerizing Elsa Zylberstein. The Academy should just hand over the Oscar to KST now, and it would also be amazing if Zylberstein were to earn a Best Supporting Award nomination, but we're skeptical that that will happen. The film by first-time filmmaker Phillipe Claudet has a 91% RT consensus. Man, the NYTimes get it right as per usual. Their perfect headline for their review? A Broken Soul Wandering Aimlessly on the Long Path to Redemption. Wow, that nails it, especially the painfully-real sounding, "broken soul."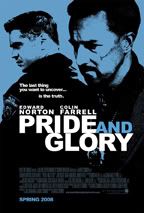 Pickin's get slim after that. The stock cop drama, "Pride & Glory" which has some decent performances, (particularly an understated and good, Noah Emmerich), but fails to deliver on the Sydney-Lumet-like promise it begins with. In fact, near the 3/4 mark, it really flys off the rails. It has a low 32% rating.

Nothing past that seems to be worth losing breath over other than the very-well received (and apparently very good Chilean Andes mountain survival documentary, "Stranded: I've Come from a Plane That Crashed in the Mountains" (I'm allowed to say this: Chileans are funny every movie they make is either about Pinochet's regime or the aforementioned airplane disaster). The film has a great 89% rating and we wish we would have had a chance to see it in advance.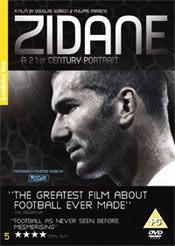 Oh, we're almost forgetting the North American release (finally!) of "Zidane: A 21st Century Portrait," the documentary about one of football's greatest champions, Algerian-born French soccer superstar, Zinedine Yazid Zidane (god, what an amazing player; Zizo's grace turned the sport into an art). The film features a fantastic soundtrack by Scottish post-rockers Mogwai who are big footie fans (they also helped perform the score for Darren Aronofsky's "The Fountain" that was composed by Clint Mansell). If we didn't have a hard-drive crash recently, we'd post some of it for you. The film has been out in Europe for almost two years now, so we're psyched it's coming to North American finally.

Anne Hathaway's "Passengers" also opens up this weekend, but it has no ratings at Rotten Tomatoes which suggests it was so bad that it was not screened for critics. Make the right decision, happy movie-going!

(PS, to be fair, "Fear(s) Of The Dark" is well reviewed too with a 72%rating, but we never had a chance to look into what that one was about to be honest).