It's Friday so time for another light-hearted post. Apparently a Alphabetical Favorite Film blogging meme has started where people are listing out their 26 favorite films, one to represent each letter of the alphabet. This is too difficult (or maybe we're taking it too literally), so we'll just rattle off favorites that come to mind without thinking about it too deeply because thinking about our favorite films is always a task that comes with the burden of getting it exactly right. Though we'll try and steer clear of the films we mentioned last week in a similar favorites-film exercise.

American Friend, The - (Wim Wenders, 1977) - Displays Wenders' American cinema fetish by including roles for Nicholas Ray and Samuel Fuller.

Burden of Dreams - (Les Blank, 1982) Blank's documentary about working with nutty Werner Herzog. Stunning.
Cría Cuervos (Carlos Saura, 1976) - Features one of the best movie songs ever "Porque Te Vas."
Dog Day Afternoon - (Sidney Lumet, 1975) - Yeah, Pacino is great, but it's all about John Cazale (RIP)
Eureka (Nicolas Roeg, 1984)
Frantic (Roman Polanski, 1982) - An underrated Harrison Ford film.
Ghost Dog: The Way of the Samurai (Jim Jarmusch, 1999) - Amazing. Love the RZA score.
Harold And Maude (Hal Ashby, 1971) - Speaks for itself, but all that Cat Stevens!
Il Conformista (Bernardo Bertolucci, 1970) - Some of the best cinematography ever courtesy of the great Vittorio Storaro.
Junebug (Phil Morrison, 2004) - Can Amy Adams ever top herself here?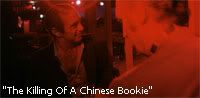 Killing of A Chinese Bookie (John Cassavetes, 1976) - Ben Gazzara in one of his best.
Landlord, The (Hal Ashby, 1970) - We've never been big Beau Bridges fans, but everything about this movie rules.
Mr. Freedom (William Klien, 1969) A guest cameo by Serge Gainsbourg and Yves Montand (but the latter is blink and you'll miss it).
New York New York (Martin Scorsese, 1977)
Ordinary People (Robert Redford, 1980)
Picnic at Hanging Rock (Peter Weir, 1975) - Sofia Coppola's favorite movie? At least for that gauzy and dreamy, soft-focus opening scene maybe?
Queen, The - (Stephen Frears, 2006)
Reprise - Still probably our favorite film of the year. Has an amazing moment with Le Tigre.
Slogan (Pierre Grimblat, 1969) - The film where Serge Gainsbourg and Jane Birkin fell in love. The theme song is excellent.
The Man Who Fell To Earth (Nicolas Roeg, 1976) - David Bowie as a lonely alien, what's not to love? We love the tourettes cinema that is Roeg's work; especially in that wacked out sex scene.

Ugetsu - (Kenji Mizoguchi, 1953)
Voy A Explotar! (Gerardo Naranjo, 2008) - One of our fave films of the year. From Mexico and with a huge "Pierrot Le Fou" fetish.
Witness (Peter Weir, 1985) - Genuinely one of our all-time favorite films. Begets the amazing line, "I know you, asshole!", which Wes Anderson jacked for 'Tenenbaums.'
Xanadu (Robert Greenwald, 1980)
Youth Without Youth (Francis Ford Coppola, 2007) - Very underrated, despite some of its sometimes laughable ponderousness.
Zardoz (John Boorman, 1974) - How ridiculous and amazing is Sean Connery in this absurdity?

Damn, we shoulda went with "Zabriskie Point," one of Michelangelo Antonio's most unintentionally absurdist films with a Pink Floyd soundtrack.