Dear God, someone stop Hollywood and someone pleassssssssse, stop Will Smith and Steven Spielberg from remaking the the classic 2003 vengeance tale, "Oldboy," by South Korean auteur Chan Wook-Park ("Sympathy For Mr. Vengeance, "Lady Vengeance,")

First off, if you're actually going to pull this movie off right by adhering to the original story, it might be hard to do for American audiences. No, not because of the violence, Americans love that (especially the MPAA), but because some of the crazy, sexual taboo stuff that happens near the end of the film (which we won't reveal if you haven't seen).

It's imperative that those elements be present or else the breathtaking surprise of the ending and the deep level of sick vengeance evaporates.


We can't think of average Americans (no less with sugarcoaters like Smith and Spielberg and their built-in mainstream family audiences) that could handle this so, their "remake" will have to be incredibly watered-down and neutered. What would be the point then?

"Oldboy" centers on a man who is mysteriously imprisoned and tortured for 15 years, and then released without explanation. He is then given money, a cell and five days to track down his sadistic captor and seek vengeance, but it turns out the imprisoned act isn't as random as it first appeared.

The awe-inspiring drama won the Grand Prix at the 2004 Cannes Film Festival and won over jury head Quentin Tarantino who highly lauded the film (apparently he wanted to give it the Palme d'Or over "Fahrenheit 9/11"). However, "Oldboy," is much more than hyper-violent and stylized revenge flick and Wook-Park's thoughtful artful film is much more of a moody, thinking-mans cinematic experience than it is the splattering-fest some might think Tarantino would normally endorse (in other words, Wook-Park has been erroneously dubbed, "Tarantino-esque," but their styles couldn't be anymore different). The film has a dazzling, elegant aesthetic, striking visuals and cinematography, and the resplendent orchestral score by Yeong-wook Jo is utterly magnificent too.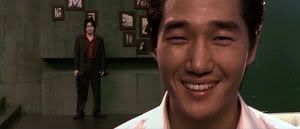 Almost universally praised, Salon called the film, "anguished, beautiful, and desperately alive" and "a work of pop-culture artistry." Roger Ebert's plaudits read, "We are so accustomed to 'thrillers' that exist only as machines for creating diversion that it's a shock to find a movie in which the action, however violent, makes a statement and has a purpose."

Note, Spielberg and Smith are in early discussions for this project and a writer would still need to be found and hired. "Oldboy" is pretty stunning and we higher forces prevent Spielberg and Smith from butchering this spectacular film.

Note how Yeong-wook Jo names the instrumental songs in the movie after other films, a Bergman film ("Cries & Whispers") a De Palma one ("Dressed To Kill") and Scorsese ("The Last Waltz"). They're all grand and splendid.

Here's the original trailer.