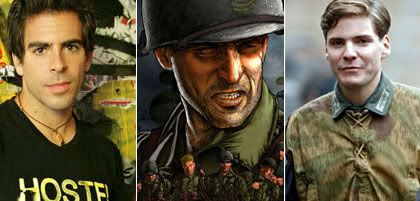 We knew there was a logical reason Quentin Tarantino hired Eli Roth for his WWII film, "Inglourious Basterds." You'll recall that Roth was hired for to play the role of vicious "Bear Jew" American soldier, Donny Donowitz and a lot of people (including us moaned and groaned). This bit of news makes sense.

According to Tarantino Archives, Roth directed what is known in the "Inglourious Basterds," screenplay as "Nation's Pride," a film-within-the-film propaganda piece that stars Frederick Zoller (German actor Daniel Brühl) -- a young, handsome German war-hero whose sharp-shooting skills are depicted and lionized in the film for furthering Nazi doctrine and honor (pictures of which have made it onto the web, they're underwhelming).

Essentially, Brühl's character in 'Basterds' is known and celebrated for killing many Russian soldiers in combat and the movie re-enacts his own sniper abilities as Leni-Riefenstahl-like German propaganda cinema.

This would make sense. Tarantino was a) never seen on set during these shoots, b) he is moving at full-speed on 'Basterds' in hopes of getting the film done in time for Cannes 2009. What better way to shoot faster than to get than to score a guest director (ala "Sin City") to direct the film (which is just shown in black-and-white snippets in the movie and mostly in the end). Essentially, Roth is like a glorified first-unit director, but either way,it's like killing two-birds with one stone and, as it should, it basically ensures that 'Pride' will have a different aesthetic from the way Tarantino shoots, 'Basterds' itself.

That must be the reason Tarantino actually entrusted an actor as green as Roth (and mediocre if "Grindhouse" is any indication) with such a strong role in the film, right? Right? Sounds logical to us.

PS, this is kind of funny. Tarantino teaching Til Schwieger how to do a spit-take onset. How does one not know how to do a spit-take? (god, we love the spit-take). Maybe it's a lost in translation thing.