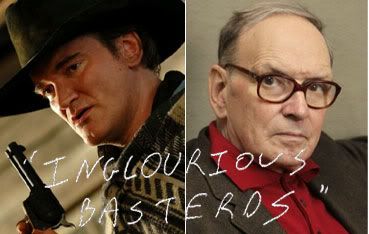 Has Quentin Tarantino enlisted legendary composer Ennio Morricone to compose the music to his WWII epic, "Inglourious Basterds"?

Maybe yes, maybe no. According to Italian site, IGN, the now 80-year-old composer has been tapped to write the original score to the film, however, maybe it's not locked down fully. Tarantino Archives linked to this story on Friday, but now they've shied away and story has been pulled down and they're saying, it's not 100% confirmed.


Either way, it sounds legit. Tarantino is a huge Morricone fan having appropriated over half a dozen of his Spaghetti Western themes for the two "Kill Bill" films ("Death Rides a Horse," The Demise of Barbara and The Return of Joe," "Navajo Joe Main Title," etc.) and recycled Morricone's "Paranoia Prima" in "Death Proof," (An atonal track taken from Italian horror maestro Dario Argento's "Gatto A Nove Code"), but in the past, the director has generally stayed far away from score music, utilizing existing music only instead and never having hired a composer to write original music for him yet. Morricone apparently even turned down an offer to score small segments of "Pulp Fiction," back in the day (We'd honestly never heard that one before).

Tarantino scoffed at the idea of a score composer earlier this year at Cannes. "I have one of the best soundtrack collections in America. I just don't trust any composer to do it. Who the fuck is this guy coming in here and throwing his shit over my movie. What if I don't like it? And the guy's already been paid!"

QT also once suggested that musically, anything goes in "Inglourious Basterds," and not just period music. "That will really be my spaghetti Western but with World War II iconography. But the thing is, I won't be period specific about the movie. I'm not just gonna play a lot of Édith Piaf and Andrews Sisters. I can have rap, and I can do whatever I want. It's about filling in the viscera."

Morricone has been nominated for 5 Oscars during his illustrious career, but never actually was awarded a statue. Instead in 2007, he was lauded with a lifetime achievement Oscar by Clint Eastwood for his seminal contributions to film music. Even at 80-years-old, the composer has not slowed down and continues to be prolific in his work.

Many, including us, have noted that "Inglorious Basterds," has a "Cinema Paradiso" vibe (the main protagonist, Shosanna runs a French cinematheque), but it's interesting to note that Morricone is not a fan of his work on that famous film (it won the Oscar for Best Foreign Language Film in 1990). In 2007, Morricone's body of work was celebrated at New York's repertory theater, Film Forum, but according to a friend of ours who helped program the festival, the composer was adamant that 'Paradiso' be not included he was so unhappy with it. This stands to reason. Have you seen Paradiso lately? It's one of our all-time favorite films, but the score is admittedly super treacly and way over the top with gushing sentimentality.

Download: Ennio Morricone - "Paranoia Prima"