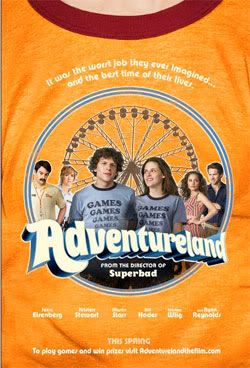 Wow, it's like a mother load payoff. We've been waiting and waiting for Greg Mottola's follow-up to "Superbad," the coming-of-age dramedy "Adventureland," and now every thing's arrived: the trailer, the poster and new images from the film.

We've written about the film a ton and based on the fantastic script we called it a film that has all the potential to be "the 'Rushmore' of 2009," yeah, it's that good. Here's the synopsis:

It's the summer of 1987, and James Brennan (Jesse Eisenberg), an uptight recent college grad, can't wait to embark on his dream tour of Europe. But when his parents (Wendie Malick and Jack Gilpin) announce they can no longer subsidize his trip, James has little choice but to take a lowly job at a local amusement park. Forget about German beer, world-famous museums and cute French girls-James' summer will now be populated by belligerent dads, stuffed pandas, and screaming kids high on cotton candy. Lucky for James, what should have been his worst
summer ever turns into quite an adventure as he discovers love in the most unlikely place with his captivating co-worker Em (Kristen Stewart), and learns to loosen up.


The The film also features, Ryan Reynolds ("Just Friends," "Van Wilder"), Martin Starr ("Knocked Up," "Superbad"), and "Saturday Night Live" cast members Kristen Wiig ("Knocked Up") and Bill Hader ("Superbad," "Tropic Thunder").

Written and directed by Mottola, drawn from his own job-from-hell experience his creative team includes cinematographer Terry Stacey ("The Nanny Diaries," "Dexter"), production designer Stephen Beatrice ("Then She Found Me," "Sherrybaby"), costume designer Melissa Toth ("No Reservations," "Eternal Sunshine of the Spotless Mind"), and editor Anne McCabe ("Maria Full of Grace," "You Can Count on Me").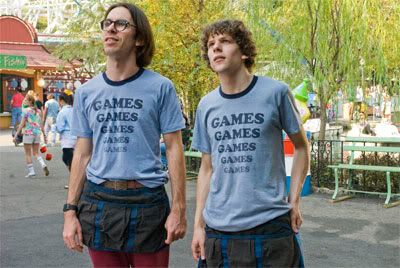 We've already written quite a bit about the music of "Adventureland" (Hoboken indie-rock trio Yo La Tengo is composing the score) and ton of the music of it is written right into the script, Smiths, ("There Is A Light That Never Goes Out,") , The Replacements ("Bastards of The Young," "Willpower"), and songs by The Buzzcocks, Lou Reed, Level 42, Buckner & Garcia , El Debarge, Jonathan Richman and the Modern Lovers and many many more (full list here).


On his myspace, Mottola lists his favorite artists:

Lou Reed, Yo La

Tengo

, Paul

Westerberg

, Alex Chilton, Jim James, M. Ward, The

Decemberists

, Belle & Sebastian,

Morrissey

,

Vetiver

, Bonnie Prince Billy, Tom Waits, Brian

Eno

, Gram Parsons, Merle Haggard, Gillian

Welch

, John Coltrane, Miles Davis, Lee Morgan, Wayne Shorter, Cannonball Adderley, Sonny Rollins, Bill Evans, Chet Baker, Lester Young, Frank Sinatra,

Django

Reinhardt,

Nino

Rota and all those

friggin

' pop songs stuck in my head.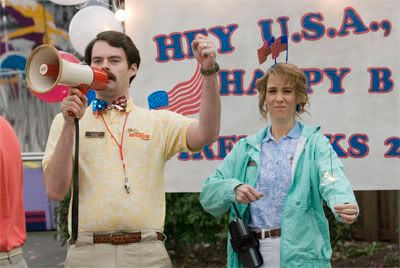 Perhaps a clue of more music to be featured in the film? The script already does list over a dozen songs in the film, but

Motolla

once said there were over 50-songs featured in the film and
James

McNew
of Yo La

Tengo

told us he heard some
Hüsker
Dü
in it as well.

The trailer features

Rush

's "Limelight" (how amazing is that?) and the "Blister In the Sun" by the Violent

Femmes

. There's no release date on the film yet, but as we reported earlier this year, it's a Spring 2009 target date. The trailer makes it look a little serious than it is in the screenplay (which has lots of "Rushmore"-

esque

melancholy moments), but it still looks great and we can't wait to see it. One of 2009's most-anticipated as far as we're concerned.

According to

IMDB

the film comes out March 27, 2009, but trusting

IMDB

with 100% accuracy is something we'd never

recommend

.