The buzz on "Twilight," for romantics, goths and tweens has been huge this year. No doubt the book is a phenomenon and the film will probably follow suit. We once questioned whether it could connect with massive audiences or just a sizable, but dedicated ones, but it appears it could be gangbusters all around.

EW, just wrote, "Will the movie be a hit?" and then Collider says that movie tickets site, Fandango is reporting almost 100 sell outs already in various theaters around the country. The film doesn't open until November 21.

"Twilight accounts for 63% of all ticket sales on Fandango, the nation's largest movie ticketing destination, outpacing those of High School Musical 3 at the same point in that film's sales cycle (two weeks before release date). "
Sounds grand, but even the director of "Twilight" (and

EW

) puts those numbers in perspective. "

Harry Potter

" for example (a franchise many are comparing it to) sold 400 million copies of its books seven editions. "Twilight" on the other hand and the four books in its series have sold 17 million copies worldwide in comparison. Sure, a three book difference, but an even more

mammoth

gap in sales.

We're not even 5 percent of Potter sales. We're not even a toenail on that body,''

Hardwicke

said to

EW

. ''Ours is a character film, a little more sophisticated teenage Romeo and Juliet.''



EW

notes what we've been thinking all along. "To hit it big, the vampire romance needs to

lure moviegoers beyond the series' core fans

."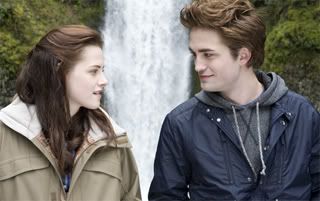 Expecting a sequel? The director guesses that "Twilight" must gross $150 million for the studio to approve a follow-up. Wait, isn't there one already green-lit? Not

exactly

. "Twilight" screenwriter

Melissa Rosenberg

is

at work on the sequel according to

EW

(the second book is called, "

New Moon

,"), but just because a script is written, doesn't mean a film has to be made. As

Hardwicke

pointed out earlier, the film has to make a ton of money for another to follow it. And Summit Entertainment hasn't exactly had a great year either.


Experts guess "Twilight" should easily be able to clear $20 million opening weekend, but that's not exactly "

High School Musical

" numbers either.