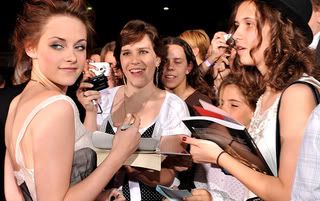 This weekend marks the opening of the utterly terrifying tween/soccer mom phenomenon "Twilight," but the females stars of the film have other things on their minds at the moment than crazed young girls.

Kristen Stewart and Nikki Reed ("Thirteen") were on the red carpet Monday night when MTV.com asked Reed about her future plans. "I'm doing a movie called 'K-11' in January with Kristen Stewart. It's about a little-known section of the men's county jail. I'm playing a man, and Kristen's playing a boy."

K-11 is a section of Los Angeles County Jail reserved for homosexuals, so the film should be, uh, interesting to say the least. It is being directed by none other than Jules Stewart, the mother of Kristen. Which is comforting to Reed, "I have full faith in Jules. I suppose I would be [nervous about the handling of our transformations] if it were coming from left field, but I've known about the script for a very long time." The film will also star the icon of several Kevin Smith films, Jason Mewes. Sounds fucking crazy, but color us interested.