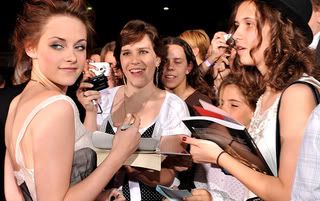 Teen girl juggernaut and vampire zeitgeist "Twilight" is set to open this weekend and with that comes a rash of reviews and stories downplaying the potential box office success of the movie. Reuters weighed in with a warning that "some industry watchers are wondering if all the hype could be too much of a good thing," followed by a page of reasons why "Twilight" will make a boatload of money. The article places a lot of emphasis on the loyalty of the Twilight book fans but some simple math tells us that even if all 17 million people who bought a book also buy a $7 movie ticket the film still only grosses $119M - and earlier stories have reported the first movie needs to break $150M to get serialized.

One corner "Twilight" isn't counting on are the critics. Although Jeffrey Wells may have endorsed it, Roger Ebert is having none of it and gives "Twilight" two and a half stars. His review reads like we expect many reviews from male critics to read - completely oblivious to the idea that "Twilight" is actually based around the female lead and impatient with all the teenage lust that's central to the story. Ebert's review at times seems kind of creepily personalized, for example:

"Should a woman fall in love with a man because he desires her so much? Men seem to think so. It's not about the woman, it's about the man's desire. We all know there is no such thing as a vampire. Come on now, what is 'Twilight' really about? It's about a teenage boy trying to practice abstinence, and how, in the heat of the moment, it's really, really hard. And about a girl who wants to go all the way with him, and doesn't care what might happen."
Then again, what about "Twilight" isn't creepily personal for everyone - from author Stephenie Meyer to Robert Pattinson to the majority of teenage girls who've been inside a Barnes & Nobel. THR reports that, in spite of all our doubts, opening day midnight showings of "Twilight" have been selling out and ticket pre-sales are already higher than "High School Musical 3" and the last two 'Harry Potter' movies. At this point around 1,100 first weekend showings are sold out via Fandango and MovieTickets.com. People are predicting all kinds of opening weekend numbers for the film. We've seen huge spreads going from $30M to $60M that all the authors at The Playlist can't even agree on. Looks like no one's really prepared to commit to what the teen girl market will do.