We all know the adaptation of Cormac McCarthy's "The Road" starring Viggo Mortensen, Kodi Smit-McPhee, Charlize Theron and Guy Pearce has been pushed to 2009.

That's a done deal. And a few people got to see an early screening of the John Hillcoat (the moody and excellent, "The Proposition") directed dystopian drama that was met with mixed results.

But Filmmaker magazine's Travis Crawford got to sit with Hillcoat inside the editing bay (before the film was bounced to '09) and delivered a much more informed piece that aforementioned audiences that judged an unfinished product at a test screening.


McCarthy's novel is one of his most despondent and desolate, following a father and son in a ashen and bleak post-apocalyptic world where cannibals and looters desperately scrounge like vermin for scraps to survive and extend their miserable existence. McCarthy says that many thought the movie would soften some of the film's edges, but according to his "shaken" and "brutal" viewing experience, the opposite is true.


"Amputees and the physically disabled writhing in a cellar. A father (

Viggo

Mortensen

, who is extraordinary) teaching his son how to use a gun so they can kill themselves. A mother (

Charlize

Theron, equally remarkable) discusses, in flashback, why she

didn

't kill her own son. A clan of cannibals stalks "The Man" (

Mortenson

) and his little boy. If [The

Weinsteins

] were thinking an autumnal "Oscar-friendly prestige pic," then they should think again. Shakespeare in Love, it

ain

't."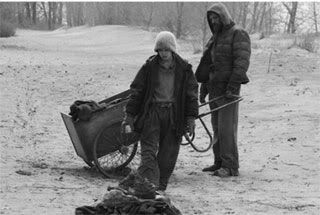 And perhaps this is exactly why the film was pushed out of Oscar season (there's no reason other than calendar holes or economics that they couldn't save it for Fall 2009, right?).

Albeit

, he did say the film was "racing" to be completed for its once-scheduled November 26, 2008 schedule, but what film this season

isn't

down to the wire this season? And would a push into December for extra editing time really killed its chances?

Clearly the film is dark as night though. Or at least was in this edit. Crawford calls it an "undeniably harrowing work" and calls the footage he saw, "unsettling, raw and emotionally draining footage." Palpably impressed, the writer warns, "I just hope that audiences are prepared."

Maybe the

Weinstien's

werent

.