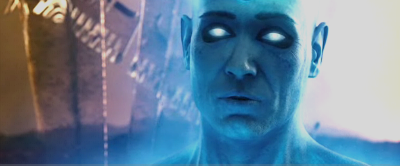 Nerds turned down dates and going out to make sure they saw this on time (5pm PT). Wait, that's not true, they never had dates or anything to do.

We digress, the new Zack Snyder-helmed "Watchmen" trailer is up and the Interweb has basically peed their pants.

While visually impressive, it doesn't feel realistic at all - a different world where slo-mo permeates all. Whatever, the kids love it already. This one appropriates Philip Glass' famous "Koyaanisqatsi" (from the titular 1982 film, sounds like an updated version maybe) score and Muse's Glass/Steven Reich influenced, "Take A Bow."



Look for the shot in the trailer where a mob burns a Superman dummy. Snyder's diss on modern-day Superheroes? (ironic considering how realistic "Watchmen" is supposed to be and how stylized and unrealistic it looks). We are finally warming to this though. It looks like it might be at least entertaining, Rorschach's tough-guy growl aside (not as annoying as Christian Bale's in "The Dark Knight").