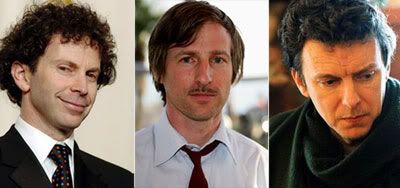 It's no real secret that Charlie Kaufman's "Synecdoche, New York," was originally conceived as a horror project for Spike Jonze to direct. Jonze became occupied with "Where The Wild Things Are," and rather than wait another two-years to direct (which would have become four considering how long 'Wild Things' has taken), Kaufman asked his director buddy if he could take a crack at it and Jonze gave him his blessing.

While sprawling, ambitious and super-heady, 'Synecdoche,' was met with mixed results usually by people who loved it or hated it and not much in between. Some people felt Kaufman needed either Spike Jonze or Michel Gondry (who directed to Kaufman-penned scripts, "Human Nature" and "Eternal Sunshine of the Spotless Mind") to realize his cinematic vision. Likewise, when Gondry released "The Science of Sleep" (not to mention "Be Kind Rewind") a lot of critics felt he was out of his element and needed Charlie Kaufman to write for him. Basically no post-'Eternal Sunshine' or "Adaptation" projects have been met with as much unanimous praise since Kaufman was teamed up with either or fanciful auteur.


And it could stay that way. While Kaufman sounds like he almost decided to never direct again after 'Synecdoche,' it now sounds like he's never going to write a script for anyone but himself to direct which could be a major drag for fans of Jonze or Gondry's work. When he talked to Filmmaker magazine, he sounded pretty resolute that he wouldn't take that step backwards.

"I don't know how to proceed right now because for a while I wasn't going to [direct again]. There was enough hardship during this production that I sort of vowed that I wasn't going to do this again. But I want to now.

I don't know how I could go back to giving [one of my scripts] to another director unless I

have

to.

Although I've worked with three directors and enjoyed working with two of them a lot, I feel like this is my stuff and I've got a taste for doing it and controlling it and not having to answer to people. Plus I think that I learned an enormous amount. This was probably the most concentrated learning experience of my life and I want to try it again knowing the things that I learned and seeing what I can come up with next time."
Personally, we'd like to see one more go with each director, but we might not get a chance to unless some studio doesn't trust him with another crazy ambitious and surrealist project.