Film critics are a funny bunch towards one another. If one critic agrees happens to agree with you, he or she is OK, but god forbid if one writer can't see the light like you can, lord, than they're fucking retarded and a piece of trash, etc. etc. It happens all the time when people are passionate about things they love and hate and should be taken with a grain of salt.

We're not much different. Last year, we pretty much disavowed Time Out New York critic Melissa Anderson for putting Richard Kelly's "Southland Tales," at the top (or near the top) of her Best of 2007 picks. We loathed the preposterous and foolish, 'Tales' so much we were outraged and practically disgusted with her choice that we assumed had much to do with the so-bad-its-genius! ironic stance that we have generally have zero time for.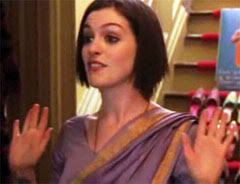 This year, however, Anderson is redeemed! Why? Well, because she agrees with us of course, what else would it be? (how fucking convenient, right?) Last year, she had pretty much forfeited all critical good will, but this year we love her (ha!) for pretty much sharing our opinion of "Rachel Getting Married."

Anderson puts it at the top of her Worst Films Of The Year List (again, an extremist move, we didn't care for it much, especially Anne Hathaway, but we didn't hate it). But what she writes about the film is on the money (and mostly aimed at Hathaway anyh0w).

"Performing hysteria isn't acting; hauling out the language of recovery and 12-stepping yet again doesn't constitute dialogue. Emotionally fraudulent from beginning to end, this toxic, sprawling mess is narcissistic American filmmaking at its worst."

(Mostly) Amen.