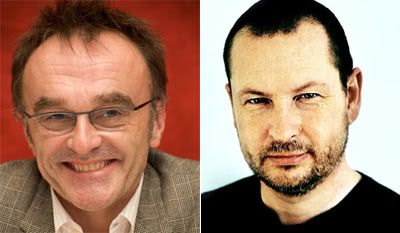 MTV again, Kurt Loder, the same Fox Searchlight holiday party, we just wrote about.

The journo runs into Danny Boyle and starts chatting him up. Doesn't reveal much to it, but drops this little juicy tidbit of information.

"[Boyle] he has to hook up for a new picture with his longtime colleague, the Danish curmudgeon/director

Lars Von Trier

."
Danny Boyle and Lars Von Trier? Doing a movie together? What an odd pairing. How does that work?. Trier is such a

miserablist

, an

enfante

terrible and Boyle is so

buoyant

and celebratory in his work.

Hmm

, no details at all, but we wonder what that will produce and what exactly the collaboration will be.

Meanwhile, we've never read
Irvine Welsh
's "
Porno
," but that's basically the plot of the "
Trainspotting
sequel." If you haven't read it like us, Boyle explains what the plot of this sequel would be should they ever eventually shoot it to the A/V Club.
"It's about these hedonists who abused themselves, their bodies, their minds, and everybody around them, at that time of your life when you feel like you can do anything, you're invulnerable. They hit the wall in middle age, when everything stops, and you think, 'I can't do that anymore, I will not be able to get away with that anymore.' We always thought that's a wonderful idea as a sequel, rather than just a cash-in of doing the same thing again, I just thought that would be very exciting. So that's the plan."
Meanwhile, Boyle talks a bit more about the animated project he was

going

to do with "

Millions

" screenwriter Frank

Cottrell

Boyce based on a

Terry Pratchett

sci-

fi

novel. The project fell through though.

"I do believe...that you should go back to the beginning again, do something you're not familiar with. [So] I was working with

Frank

Cottrell

Boyce, who wrote Millions. We were working on the script at

DreamWorks

together, 'cause animated films take forever. I normally only ever do one thing at a time, I normally never double up on what I do, but I was doing that on this one. It's fallen apart, unfortunately, so it's not going to happen. [Animated films are] so expensive and complicated. They're a huge thing."