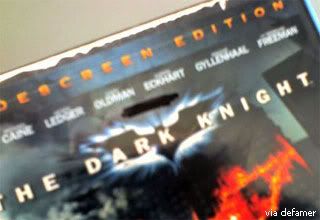 More snubs for "The Dark Knight" yesterday. First it was the Golden Globes, now this. As DVDs of 'TDK' ship off to critics to help boost its Oscar chances, some people are getting copies with the words "A Christopher Nolan Film" blanked out with black marker. Those with the marked DVDs are members of the Writers Guild of America.


This graffiti comes as a result of the WGA taking offense to a "
possessory credit for a director.
" At least that's what
Warner Brothers
had to say about it. The WGA gets all hot and bothered when movies say "A film by

Penny Marshall

" or "A Penny Marshall film" instead of saying "Directed by Penny Marshall." The WGA believes credits like those make it sound like the director made the film all by themselves thus pushing those others who worked on the film, like the writers who came up with the idea in the first place, to the back of the line.


So someone over at WB has to scribble out Nolan's name on every single copy of 'TDK' that goes out to a WGA member. Don't worry buddy, someday, someone is going to be scribbling your name off of the front of a DVD cover. Just you wait. [Defamer]