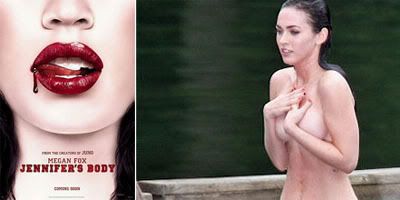 Remember the Diablo Cody-penned horror comedy, "Jennifer's Body," starring Megan Fox and Amanda Seyfried (a script we read earlier this year and loved)? Well, the film has now been given an official release date which is Sept. 18, 2009.

Fine and great, yes? Directed by Karyn Kusama ("The L Word"), perverts and red-blooded males will remember the fact that the sexually titillating film not only sports an alleged sapphic make-out scene between Seyfriend and Fox (though its not in the script we read), it boasts a sort-of nude scene for Fox, images of which leaked online earlier this year.

However, according the chest-icles loving movie site JoBlo (our favorite source of course), the "topless scene" has been cut from the film and said the film was pretty terrible to boot. One of their pals saw an early cut of the film and said, "Nonetheless not only did we not see her topless but the movie was indeed quite awful."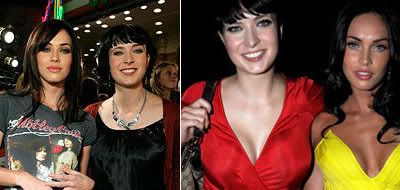 Modeled after films like, "Heathers" and generic horror films, "Jennifer's Body" chronicles a gorgeous cheerleader (Fox), who's possessed by a demon and starts feeding off teenage boys in a small Minnesota farming town. Her best friend (Seyfried) must kill her, then escape from a correctional facility to go after the Satan-worshipping emo rock band responsible for the horrible transformation.

taste isn't the best so we'll hold out hope, though we can see how that film could be a piece of shit if fallen into the wrong directorial hands (we've never really seen We're sorry to hear it's not good, but JoBlo'sKusama's work).

Those worked up in a frenzy over Megan Fox's "deleted nude scene" should calm down. Even in the original script, you just see Fox come out of the water naked from afar (hence the pasties to make it look like she's nude), there was never a big nude scene from the beginning. What boner fans should really get worked up over is the Seyfried/Fox make-out scene in the film, which was not in the original screenplay, but apparently still made the cut that JoBlo saw. However, whether Seyfried is part of the kiss seems doubtful. "There was a scene where it's a real big close up of [Fox] kissing another chick (YES!!!!)," writes JoBlo with typical girl-on-girl enthusiasm, but if it was Seyfried, you'd think they know. Sounds like it's not her despite the reports.

The musical score to 'Body' is being written by Theodore Shapiro who is also composing the music for the Harold Ramis biblical comedy "Year One,"produced by Judd Apatow and starring, Michael Cera and Jack Black. Shaprio also did the music for "Tropic Thunder" "Semi-Pro" and "Marley & Me" in 2008.

"Jennifer's Body" opens in theaters September 18, 2009 with our without pasties and co-starring make-out scenes.