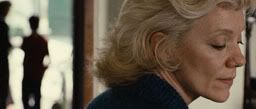 Speaking of IndieWire, their critics Top 10 picks (and the ones that represent the IndieWire's 100 Critics Picks Poll) are tied to films that were officially released in North America in 2008. But many of their critics saw tons of films this year at festivals that weren't technically 2008 films because they have yet to find North American distribution.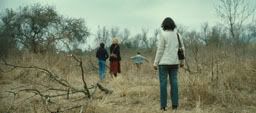 One of our absolute favorite films of the year (we're not tied by the IndieWire rules), a film we've been going on about given any small chance we could (which wasn't often enough, frankly considering how much we've mouthed off about it in person) was, Lucrecia Martel's "The Headless Woman" and the same 100 critics polled by IndieWire picked her third feature-length film as the Best Undistributed Movie of the year.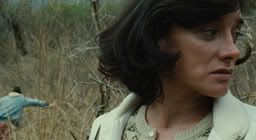 The oblique picture about a woman in a strange car accident throws her life off kilter, is definitely a challenging and actually got booed at Cannes earlier this year, but some people (including us), were, not dazzled... but astounded by the disconcerting and disorienting nature of the film. It's an experience and it's stayed with us all year and made us relook at all of Martel's films that do an incredible precise (but not premeditated) job of eschewing basic film grammar. We kept asking ourselves, why is this film making us lose our equilibrium? And a lot of it has to do with with the way Martel does away with establishing shots, transitions and a lot of accepted basic films forms. And it's not like it's wacky, out-there, filmmaking either; her work is understated and incredibly acute and perceptive. We said the film "was a fascinatingly unnerving and purposefully disorienting picture and not like anything we've seen in a while."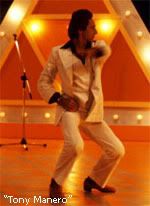 Her use of negative space, man, we can't even do it justice, but there's an intensely haunting emotion to the film that had resonated and lingered. Look for it on our year end list for sure.

Second on the list was Korean auteur Hong Sang-soo's "Night And Day" (which we haven't seen) and third was Chilean director Pablo Larrain's "Tony Manero," which basically tracks a psychopath during the disco/Pinochet dictatorship regime (which we didn't love per se, but we did like quite a bit and it certainly shouldn't go undistributed or unnoticed).

Another film on the list is the Mexican film, "Voy A Explotar!" (I'm Going To Explode") which is also one of our favorite films of the year. There are 76 films on IndieWire's Best Undistributed Films Of 2008.


Here's the Top 10.
o1 - The Headless Woman
02 - Night and Day
03 - Tony Manero
04 - Birdsong
05 - 35 Shots of Rum
06 - United Red Army
07 - I'm Going To Explode
08 - Sparrow
09 - Liverpool
11 - Afterschool

Here's the Spanish-language trailer for "The Headless Woman" ("La Mujer Sin Cabeza").