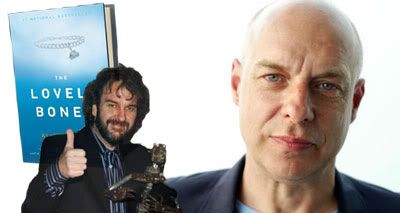 Wow, what a coup. Peter Jackson's upcoming adaptation of Alice Sebold's "The Lovely Bones" takes place, or part of it at least, in heaven, so who better to provide that blissful and celestial sheen than legendary musician and ambient music pioneer Brian Eno.

Paramount has confirmed that the 60-year-old musician (known for his seminal work with Roxy Music, David Bowie, the Talking Heads and U2 to name a few rock icons) will be writing original music for the film. As iconic as Eno's heavenly music is, he's not really known for his film scores and rather, his pre-existing music is generally appropriated by filmmakers (notable examples include "Trainspotting" and more recently Oliver Assayas' "Clean" in 2004 and "Boarding Gate" earlier this year). But Eno has scored several film including "The Jacket" in 2005 starring Adrien Brody.

The film centers around a girl who is brutally raped and murdered, who then watches the effects of her murder on her family from heaven and features Saoirse Ronan, Rachel Weisz, Mark Wahlberg (who unceremoniously replaced Ryan Gosling, who was basically shit-canned by Jackson for allegedly being "difficult"), Stanley Tucci, Susan Surandon, and Michael Imperioli.

The Lovely Bones is evidently set for a December 11, 2009 release, a sure to be Oscar-bait film for next year.