We've seemingly hated on "The Dark Knight" all year, but in all seriousness, it's a bit of a playful jest on our part, because we get tired of hearing about one film, especially when so many others are so deserving.

We'll still be slightly annoyed if it does score a Best Picture nomination, but it's not like it's not a worthy film. We just started a poll in our left nav about the Batman's chances for Oscar, but contrary to popular belief, we do think 'TDK' still has a shot. Pundits and people like to say that the Academy members always throw in a surprise, but remember, it's not like they vote together and collectively decide to laud something else. It's a different group of people with a different mindset. It's not critics, nor are they bloggers. They industry members who have worked on many of these films and have a different attitude.

We think many of them are going to appreciate the artistry of "The Dark Knight," especially in a year when the "serious" Oscar bait isn't that amazing. Now if we had to put money down, we'd probably bet against 'Dark Knight,' but it wouldn't be a huge bet to say the least. It's kind of a shame that Oscar doesn't release the numbers of how many members voted for what and which films almost made the cut, because we're certain if Christopher Nolan's film doesn't get nominated the numbers will be very close (And yes, Heath Ledger is still a lock for a nomination if not the win).

Oscars are a funny thing if you compare years too. A lot of bad decisions have been made. Could you imagine if Nolan didn't get a directing nomination, but history will show that Jason Reitman did get out for "Juno"? (a cute film, but how in tarnation did that ever get a Best Picture nod??). "Little Miss Sunshine" is another one that makes us cringe as in retrospect the only thing award worthy from that whole thing was Alan Arkin.

Those latter two film shows the Academy's recent willingness to nominate (or be swayed by) films with a lighter touch, perhaps being somewhat inundated and overwhelmed with all the "dark" films. Does that mean "Wall-E" or "Slumdog Millionaire," could take that "slot" (it sort of make us chuckle how some think of it like it's some official position reserved for these types of film)? Probably not for the former Pixar film.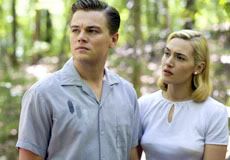 Will "Revolutionary Road" get shut out like it has all awards season? It's sure looking that way, which is a shame because it's a deserving film with strong performances by Leo, Kate and Michael Shannon. More so when you consider "The Curious Case Of Benjamin Button" will probably steal its thunder and it's not really an Oscar worthy Best Picture film contrary to what many people think.

The final five? It's what it's always been for months, but we're still holding out hope for Sam Mendes 'Road.' We would love to see "Doubt" take a Best Picture nod too, but it looks like the film will have to settle for dominating the acting nomination categories, which we suppose isn't the worst thing. Add to our We'll Get Annoyed If This (Fill In The Blank) Gets Nominated list, is Kate Winslet's performance in "The Reader," a wholly undeserving film on almost every level outside of music and cinematography.