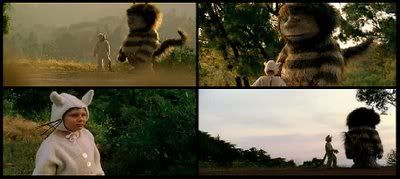 So late Friday night a clip reportedly from Spike Jonze's upcoming and much-anticipated "Where The Wild Things Are" hit the web via Buzznet, a social-networking pop-culture website and the interweb went all abuzz.

Quicker than you could say Maurice Sendak think this looks terrible, the clip was taken down, but not before people like Cinematical, EW's Pop Watch blog and Slashfilm could post stories about them and then quickly take them down after they realized they had been had (SF didn't take their story down, but aren't completely convinced its fake).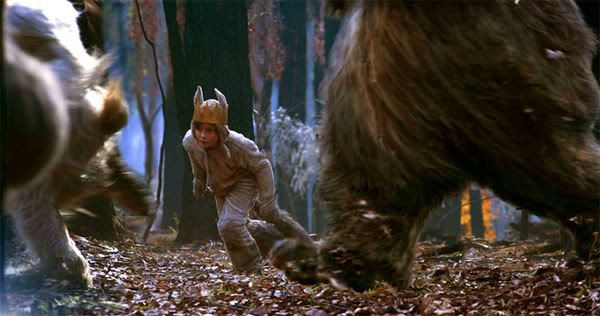 Somewhere, it was revealed the clip was apparently fake (buzznet said it was "user generated")which was (sort 0f) easy to tell based on how a) how crude it looked, b) how the Max character looked nothing like the Max character that MTV first revealed (see image to the left).

As usual though, Google cache never forgets so the posted and then retracted stories are above.

However there were a few things that might've fooled anyone. Cinematical for one knew something was wrong, but they just couldn't place what that was. "I mean, to some extent, it looks pretty cool; then again, it just seems weird in a "I need to sit on it for awhile" kind of way. I will say that the Wild Things are spot on! They look just like they did in the book," they wrote.


EW however had apparently already seen footage of the film, but were still fooled, though they too had their doubts. "I can't tell if it's quite finished yet, as the audio track sounds slightly unpolished -- the film, long in the works (filming started in August '06), recently got pushed to 2009 -- but the emotional impact of this scene is still readily apparent."


And you can kind of see why. The monster while cheap-looking, still wasn't something that just any kid could pull off and the opening strains of Beck's "Jackass" (or Them's "It's All Over Now Baby Blue") are heard fading out in the beginning of the clip - which would make sense to people that know Jonze had directed Beck videos before (and therefore make it seem reasonable that he would use some of his music). One could also be slightly duped by the fact that the footage looked slightly like the second 'Wild Things' image ever leaked (seen to the left), but just remember the fake images don't have Max wearing a crown on his head (and it is pretty obvious by the kid's cheap suit that this is fake regardless).

But you can't see the original clip fake or not cause it's been taken down, right? Wrong. People, Google cache never forgets. The original clip can be seen right here (it's also been found here) Watch it all in it's cruddy, but inventive glory, judge it, laugh and let's hope something real (and good) leaks soon.

'Wild Things' has been pushed to 2009, was co-written by Spike Jonze and celebrated hipster author Dave Eggers and has a soundtrack written by Carter Burwell and songs by the Yeah, Yeah, Yeahs' Karen O (who apparently received help from the bulimia enthusiast marfan-syndrome stricken Bradford Cox from Deerhunter. Rumors claim that the film has plagued with problems and reportedly is going through re-shoots as we speak.

Update: Users in various comment sections have noted that L.A.'s Griffith Observatory is noticeable in the background. Since 'Wild Things' was shot in Australia, this is leaving many to speculate that the clip is early FX test footage, which it very well could be (and sort of explains the good and bad of the footage if it's a test by the makers themselves), but we won't know for sure until we get a full explanation of Warner Bros. (that is if it comes). Meanwhile it turns out that Eggers will write a a solo novel to accompany the film tentatively called, "The Wild Things," that apparently is inspired by Sendak's original book. Jonze and Eggers consulted with Sendak throughout the screenwriting process.

Update II: The "hottie" obsessed movie site JoBlo (who are somewhat credible believe it or not) are reporting that they have been "informed" that the clip is "in fact test footage that was distributed to studio heads circa holiday 2005 to get studio backing for the film." In the same breath they say they're "still not absolutely certain that's true," but we're all in agreeance that it would at least make sense.

Update III: Holy shit, yes, we realize it was officially called test footage by Spike Jonze himself. And yes, it wasn't "fake" per se, but it's not footage from the film either as we assumed.

Watch: Buzznet's fake "Where The Wild Things Are" clip