"The Wire" is about to end and we're getting misty as we prepare to say goodbye to this monumental show, sheeeeeeeat.


Looking back on it all, when we start to reminisce and think about the moments we're fondest of from

this

fifth and final season, we can't help but go to

the

Omar and

Donnie

scenes during their almost 3-episode long stakeout of

Marlo

drug lieutenant

Monk

.

Donnie was of course muscle for the fallen

Butchie

- Omar's beloved blind banker, advisor and friend - and at a high-rise in Baltimore County, Omar and Donnie staked out Monk's condo from a car, carefully planning their revenge for the blind man's ruthless murder.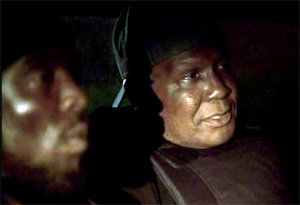 The scenes always provided many emotions for the audience, from subtle comedy (the fact that these tough guy gangsters were listening to really, soft, sensitive and sometimes tearful soul tracks -

Joe Tex, The Temptations, Smokey Robinson

), to moments of camaraderie (there was a quiet, understood brotherhood bonding thing going on) to straight up relief from all the action (the scenes often tended to be chill and relaxed as the duo patiently sat, waited, smoked, listened to music and waited some more for the exact right moment to strike).


It was always enjoyable to watch the show cut to these two during their surveillance hunt and especially watching Donnie - the mostly taciturn and soft-spoken thug (who's real life gang experiences provided much of Omar's back story) - sing along gently. The human element of these scenes only endeared you to them both all the more (and made their respective deaths all that harder to bear).


HBO

has just published this fantastic music feature on their site with 'Wire' music supervisor Blake Leyh (who's worked on all five seasons) which features fairly substantial interview, a choice playlist he put together called "The B-Side of Baltimore" that showcases eleven tracks that never made it into the show and why. It also showcases five scenes from the show with music and the reasons that went into choosing those tracks. It's really comprehensive and top notch.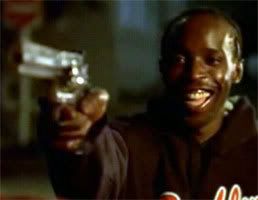 Just as the show's writing, the music approach was never conventional. "We put music in there as a device to push you away from the people a little bit," Leyh said. "It's something you would so rarely do in a Hollywood movie; you would want to pump up the emotion. But on 'The Wire,' so often we're trying to go against that."

We also provided two tracks by

Sly & The Family Stone

and

Barbara Lewis

that were quietly played in the background of Season 5 episodes.

Listen:
The Temptations - "
Just My Imagination"
Download:

Smokey Robinson - "My Girl Has Gone"


Download: Joe Tex - "Just Out Of Reach"


Download

: Sly & The Family Stone - "In Time"


Download

: Barbara Lewis - "Baby I'm Yours"


Download:

Curtis Mayfield & The Impressions - "Gypsy Woman"

The Wire Clip: Omar "It's all in the game"
Watch: The Wire Season 5 Episode Final Preview