A taut and wandering thriller, a sadomasochistic sexual psycho drama and a stylish, but oblique international intrigue story, Oliver Assayas' latest film"Boarding Gate," is either attempting to subvert genres or just not clear what it wants to be, but either way it makes for a unique experience.

First off though, we take issue with the "Irma Vep," crowd that adores that aggressively average 1996-made paean to filmmaking (Maggie Cheung is a wooden actress as far as we're concerned; and yes, we love JP Léaud too, but he, a movie does not make), and unfairly compares all of his work to the supposed brilliance of 'Vep.' So that's an unfortunate irritant, but we digress...


A bedraggled and hot Asia Argento stars as Sandra, an ex-prostitute once involved in twisted sexual games with former client turned lover, the bloated and twisted millionaire businessman, Miles (Michael Madsen).
She returns to Miles for seemingly thin reasons (cause he calls?) and they recap their sexual past while Madsen smokes, seems genuinely loose cannon-y and Argento masturbates (basically as it all happened in real life).

Argento gets involved in drug smuggling machinations and suddenly, her and Madsen's transgressively erotic sexual games are on again and we're in softcorn S&M porn territory. And just as that's getting interesting (and intentionally or unintentionall funny, it doesn't matter), Argento "offs" Miles with a bullet to the head and then the "plot," starts to finally reveal itself.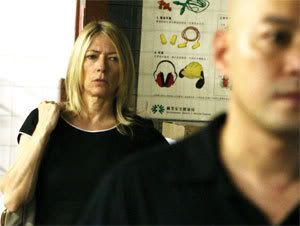 So the narrative is confusing, but it is orchestrated that way, but the point of the story is less about the grammar and more about the feeling and this is where Assayas scores with the noir-ish unease, moody cool, and the beautfiul atmospherics. It's what leads many to call this empty stylishness over substance, but we found ourselves deeply drawn into the ellipitcal haze (assisted by the dreamy strains of Brian Eno and Robert Fripp).

The sexual tension is great, the fucked up psychodrama entertaining and the noirish elements create an icy anxiety but when Madsen dies and the film travels to Beijing, it becomes trapped in thriller cliches. But a claustrophobic and kinetic camera (or was it just cause we had to sit up front?) marvels with implied wariness around every corner and gives every scene an odd, and heightened sense of unease.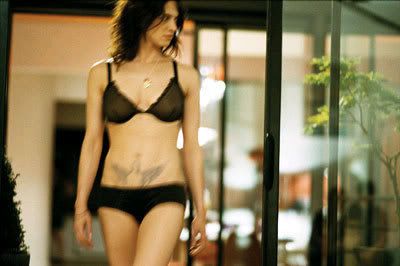 It's one of the best thing Oliver Assayas has ever done, but it also shits the bed in the end as it becomes some sort of a strange techno-international thriller (out of nowhere featuring Sonic Youth's Kim Gordon in a stilted cameo - no more than 5 words per dialogue line please - barking orders in Cantonese at her pleebs).

Despite having a small, but vocal cult following, we always felt Assayas' work was near-amateurish and his low production values and B-list actors never helped us change our minds (He's like Canadian television that way), but faults aside, "Boarding Gate" alluring ambience and dark impressionism is pretty hypnotic. [B+]

Senior Village Voice critic J. Hoberman may have disliked the film (aside from Argento's, ahem, comely assets), but Nathan Lee was moved enough by the film, or Argento's performance anyhow, he penned a full-blown, near-hagiographic feature on the actor/directress. Even those that dislike the film seem to unanimously agree, Argento is magnetic supernova (or a volcanic dynamo, take your pick) worth watching. The NY Times' Manhola Dargis says, "I'm fairly certain one reason that the French director Olivier Assayas made 'Boarding Gate' is that he wanted to watch the Italian actress Asia Argento strut around in black underwear and punishing heels," which amuses us. She also aptly calls it an anti-thriller. It's only playing in New York right now, but give it a shot when it comes to your city, it's a very decent bet.