Part III in the bat shit auteur vs. the other bat shit auteur filmmaker feud.

Let's recap quickly, shall we? Fearlessly nutty German director Werner Herzog is directing a remake of Bronx-born dirtbag Abel Ferrara's degenerate classic, "Bad Lieutenant," with Nicolas Cage.

News of the re-do naturally pissed off the perennially irritable and cantankerous Ferrara and he wished cancer on the filmmakers' colon and death in "hell. I hope they're all in the same streetcar, and it blows up," he cheerily told reporters in Cannes.

As you might of imagined, Herzog - who's seen all kinds of shit in his life and been shot with an air rifle and shrugged about it - simply brushed the dirt of his shoulder. "Let him rave and rant; it's good music in the background," Herzog said unconcerned, but then dropped a tiny, but powerful nuclear blast.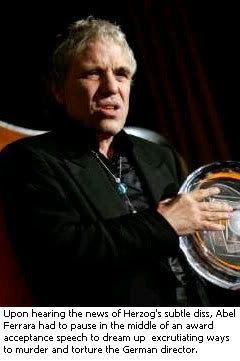 'I have no idea who Abel Ferrara is. Is he Italian? Is he French? Who is he?" Remember in Looney Toons when Daffy Duck would blow a gasket? Yeah, that's probably exactly what Ferrara did, turning red and probably exploded all over the room.

Known for giving good quote, reporters will naturally ask Herzog about his thoughts on the matter for the rest of his days and Vulture did exactly that when they caught up with him earlier this week. Herzog admitted he was a magnet for weirdos (if you know his ouevre even slightly, you know this is a hilarious understatement). "I have a tendency to attract these kinds of people," he said without a trace of irony (Herzog once plotted to kill actor Klaus Kinski on the set of the massively troubled epic "Fitzcarraldo," much of the sheer insanity of that film experience is captured in two extraordinary documentaries, Herzog's own "My Best Fiend" and "Burden of Dreams"; both are must-sees).

Apparently Herzog not only attracts the crazies he gets a lot of death threats too, but evidently he just brushes those off too. "I have no idea why, but I can live with it," Herzog said. "It's fine. So of course I can live with the fact that Ferrara is ranting and raving. Wonderful! Can't get any better."

He also told Ferrara to take a chill pill. "['Bad Lieutenant' the remake] is a completely different story and a completely different setup, so the films have nothing to do with each other," adding insult to injury by claiming he'd never even see the original version.

Jesus, Ferrara is going to have a stroke! Who knew Herzog was such a virtuoso of the subtle but deadly diss masterstroke. "But it doesn't matter. I heard he has a good face. Maybe he should play a gangster in the movie."

Wow, this is going to get good and ugly. Our suggestion is to duck and fucking cover. Herzog's Antarctica documentary, "Encounters at the End of the World" comes out next week.