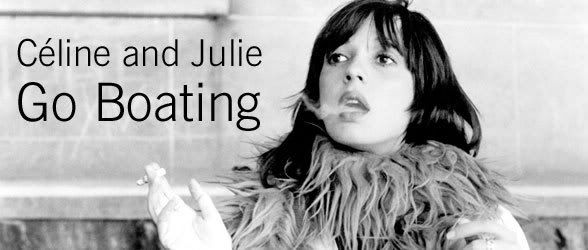 You ever go see a movie that's challenging, hard to get through, but ultimately incredibly rewarding and you're damn glad you sat through the entire thing?

As many, many have noted before us, Jacques Rivette's magically fanciful and wantonly elliptical 3 1/2 hour 1974 classic, "Céline And Julie Go Boating" is many different things to many different people and often all at once.

Part Alice In Wonderland like fantasy, part absurdist comedy, part feminist manifesto and part post-psychedelic escapade, 'Boating' is bizarre, sometimes tedious, nonsensical and masterfully oblique; a hypnotically surreal experience to be sure.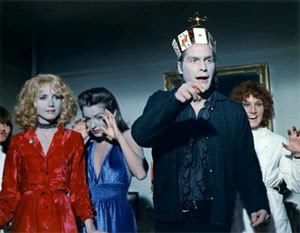 It's the type of expressive film that leaves critics writing breathless, and impassioned panegyrics (like the one above) trying to describe the film's circular oddness and lasting impression and with good reason. Yet it's not for the faint of heart and only for the almost grovelling patient cinephile. It is rather fucking long and slow-moving in moments, but we caught the film at BAM's Directors' Fortnight at 40 series in Brooklyn, and while the film was lop-sided, it was never impenetrable and certainly resonates long after its gone.


What is the film actually about? Good question. Subtitled, "Phantom Ladies Over Paris," the film is a long-winding and circuitous loop (or "story"); one half about accidental friendship and intertwined identity and a second section that somehow evolves into a madcap murder mystery via psychedelic candy. Two female friends, a librarian (Dominique Labourier), and a cabaret magician (Juliet Berto), who become fast friends, begin to overlap in personality and begin to share everything, including a collective imagination that eventually becomes driven by the use of these seemingly psychedelic bonbons that induce visions of another world that may or may not be a realm of ghosts. In this otherworldly haunted house, a evil family controls a sweet and naive little girl. She is apparently murdered and the crystal ball-like hallucinations via the magic candies soon give the duo the ability to break through to this dimension and its past, solve the mystery of how she dies and saves the girl. That's not necessarily doing it all justice, but it'll have to do. PS If it sounds like allusions to LSD experimentation, Rivette has denied this was the case, it's definitely much more Alice In Wonderland anyhow.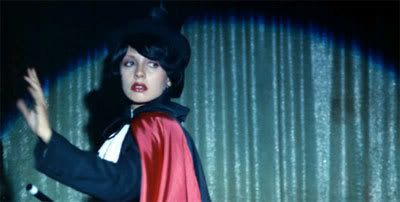 This temporal fantasia also becomes meta-textual and self-referential, with the heroines commenting on their adventure, addressing the audience, and revealing how lost they are in one another's stories even as they shape the narrative. Equal parts enigmatic and playful, the film is replete with hidden references, clues, and other puzzle pieces that might help solve the film or might just confound all the more (Céline says, "Every time I see a fish, I feel amnesia," at one point. It's a throw away line, but later on their house has a pet fish and they bother suffer from amnesia).


At its worst the film can be slow-building and it could be perceived as pretentious, but it's too fun and lighthearted to be accused of true contemptible chin-stroking jackassery. The film concludes where it began and ends with a cat staring at the audience which could be Jacques Rivette's mischievous Cheshire cat-like way of slyly saying, "Can you believe I made you sit through that nonsense?"

"Popping a hard candy into your mouth may never be the same again!" —Time Out London wrote, alluding to the film's psychedelic drug-like candy.

"Rivette's masterpiece, possibly the most fun you'll ever have at the cinema, [is] scary, evocative, exhilarating, and essential," they wrote.


Time Out New York says, "It's the Ulysses of moving pictures: You can feel Rivette exploring the art form's modes of expression and then erasing their borders, one by one."

The New York Times writes, "For a movie so dense with literary and cinematic allusions and perceptual puzzles, Jacques Rivette's 1974 ''Céline and Julie Go Boating'' remains improbably lighthearted."

The film just finished its run in New York/Brookyn and is not available on DVD in North America. If it comes to your down, bring some redbull and power through until the end. You'll be glad you made it through the experience. In researching the backstory of the film, we were sad to hear that the lithsome brunette, Juliet Berto, died of cancer at 43. The Voice says of the the vivacious heroine. "She is youth, 24 frames per second; it seems outrageous that cancer could even contemplate, much less befall, such a vibrant creature."

Scene: Celine & Julie Go Boating (for the jackass that didn't want me to blather on).