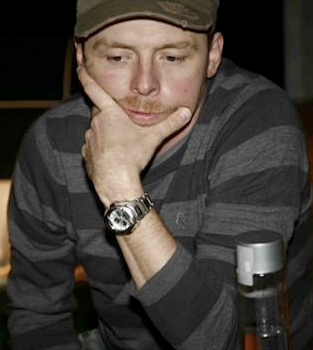 Yes, being "in talks" for a role never means its a total reality. Actors are dropping like flies off of Quentin Tarantino's "Inglorious Bastards" WWII project due to scheduling conflicts. As we said when we wrote about David Krumholtz reportedly leaving the project (and Samm Levine taking his spot), Tarantino is rushing this project for an October start date in Berlin and there's going to be causalities of war, err, timing.

The latest is Simon Pegg, who was in talks to play the British Lieutenant Archie Hicox, but had to drop off the project because of the aforementioned conflicts according to a post on his Myspace page. Pegg would have acted alongside Mike Myers who has signed on to play the small role of General Ed. Fenech.

"Much to our mutual disappointment, I won't be appearing in

QT's

forthcoming Inglorious Bastards due to insurmountable scheduling difficulties. We really tried to make it work but in the end, it just was not possible without severe ramifications elsewhere. I'm trying to remain upbeat, as Tom

Selleck

said "Who the hell is Indiana Jones anyway?"
Pegg

is a friend of

Tarantino's

and not our first choice for this role so we can't say we're unhappy with this turn of events as we can probably think of a dozen other actors (who aren't comedians!) who could probably do a better job.

In brighter news for

Pegg

, he also announced on his

Myspace

page that "

Superbad

" director Gregg

Mottola

, will be directing his upcoming road

travelogue

called, "

Paul

," co-starring him and buddy

Nick Frost

. "It's a road movie about two British geeks in America," Pegg told MTV a few months ago. Mottola with Pegg? Maybe he can raise the bar for those two overrated clowns. We ain't mad at that.