Ah, so "The Reader" is a love/robbing-the-cradle love story set in Nazi-centric WWII. Details were scarce before other than "WWII epic romance," but the trailer lets us in on what it's really about. Kate Winslet plays a nurse who falls for a teenager named Michael who's half her age (a relatively unknown David Kross, who's very much a lead actor here) and the story is told through flashbacks via the perspective of a grown up Michael as played by Ralph Fiennes. The film is directed by Academy Award-nominee Stephen Daldry ("The Hours").

Hmm, the trailer looks good, but doesn't necessarily look home run good, though we won't be surprised if Kate Winslet nabs a Best Supporting nomination for this one and a Best Acting nod for "Revolutionary Road." Unless, the Academy does something bold like give Kristen Scott Thomas or Sally Hawkins a shot, this could easily be Winslet's year. She's been nominated like four times and has never won. Then again KST has been in the industry for a long time and this might be her only shot at an Oscar, where as Winslet could presumably keep getting nominated often for the next ten years. A good example how Oscar is much more about politics than it is about performances at the end of the day.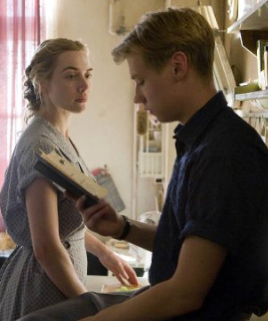 As for it's Best Picture nomination chances, hmm, if the chorus for "The Dark Knight" Best Picture nomination continues, a classic drama like this could see itself left out in the cold (same goes for "Slumdog Millionaire" too). "The Reader" comes out in limited release on December 10 and doesn't go wide until January 9, 2009.

The film's synopsis:

THE READER opens in post-WWII Germany when teenager Michael Berg (David Kross) becomes ill and is helped home by Hanna (Kate Winslet), a stranger twice his age. Michael recovers from scarlet fever and seeks out Hanna to thank her. The two are quickly drawn into a passionate but secretive affair.

Michael discovers that Hanna loves being read to and their physical relationship deepens. Hanna is enthralled as Michael reads to her from "The Odyssey", "Huck Finn", and "The Lady with the Little Dog." Despite their intense bond, Hanna mysteriously disappears one day and Michael is left confused and heartbroken.

Eight years later, while Michael is a law student observing the Nazi war crime trials, he is stunned to find Hanna back in his life – this time as a defendant in the courtroom. As Hanna's past is revealed, Michael uncovers a deep secret that will impact both of their lives. THE READER is a haunting story about truth and reconciliation, about how one generation comes to terms with the crimes of another.