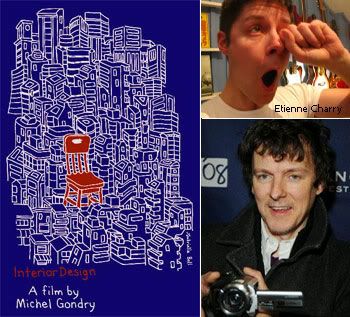 We all remember that before Michel Gondry was a filmmaker he was a drummer in the French pop band Oui Oui, yes? Gondry got his start making lo-fi music videos for his band that became progressively more ambitious. Then Björk called — always one with a keen eye for up-and-coming, cutting edge artists — for her video "Human Behavior" and Gondry basically never looked back.

Well, it looks like he's gone back to his roots a little bit by having Oui Oui guitarist/singer Étienne Charry compose the score for Gondry's "Interior Design" segment in the three-part vignettes film, "Tokyo!" that screened earlier this year at Cannes and the Woodstock Film Festival (where we missed it by a day). So whatever became of "Tokyo!" anyhow, right? The other two directors on the project were South Korean filmmaker Joon-ho Bong and French director Leos Carax who hasn't made a film since 1999's "Pola X" (which was scored by the great autumnal baritone, turned freakish-operatic singer Scott Walker).

No disrespect to Woodstock, but the films we saw there, weren't exactly of the highest quality, which doesn't bode well for "Tokyo"s inclusion at their festival. But is it coming out soon? Well, according to Rotten Tomatoes the film is coming out this year on November 30, in limited release. Really? If this is true, it hasn't been publicized at all which doesn't seem good eiter.

Hmm, we're hoping someone will write us and let us know, we'd like to see it despite our worry and the so-so review the film received at Cannes by Variety. Update: we heard back. The film is now set for a March 6, 2009, release. The late November/early December date on Rotten Tomatoes was the original date and then it got pushed to '09 because of the competing Oscar season.

Here's two clips from the film.