11/21/2008
Are the Oscar chances for "Australia" kind of dead in the water? There's always the up and down factor of this week, but something tells us it is. Having sat with the film and digested a bit more, we still feel the same way about it. We appreciated the grand spectacle of it all and we generally liked it (we never graded our "review," but we'd prolly now settle on a B), but we're not sure outside of cinematography if the theatrical nature of the film is going to connect with Academy voters which could mean a huge bust financially for Baz Luhrmann and 20th Century Fox (the film cost in the ballpark of $130 million and without multiple Oscar noms, that's going to be incredibly hard to recoup).

As we always say, you never really know until all the movies of the year are out. Hope still remains for 'Benjamin Button,' "Frost/Nixon," "Gran Torino," "Doubt" and "Revolutionary Road" but this year feels like it might end up being underwhelming - at least where the mainstream Oscar-bait is concerened. Right now in our mind, the frontrunner is still "Milk" and "Slumdog Millionaire" is looking like it might make a strong case for a dark horse Best Picture nomination, which we would love. But with "Australia"s release this week, we now definitely have to change our Oscar thoughts of 10/28. Hopefully next week. "The Reader" has really fallen off the radar too.
Posted by Rodrigo Perez at 5:36 PM 3 comments Links to this post  

Labels: Australia, Baz Luhrmann, Frost/Nixon, Gran Torino, Harvey Milk, Revolutionary Road, Slumdog Millionaire, The Curious Case of Benjamin Button, The Reader
11/20/2008
As you might have expected given the M.I.A. connection, Interscope records will release the "Slumdog Millionaire" soundtrack on November 25 digitally and then physically on December 23. MTV has the exclusive deets.

If you haven't seen the Danny Boyle directed film, you must. The thrilling, propulsive story about a poverty-stricken 'slumdog' boy from Mumbai who grows up and wins the Who Wants To Be A Millionaire challenge is a wondrous kinetic rush and a joy to behold. The music is much the same. Composed by A.R. Rahman (the "Michael Jackson of India"), the soundtrack is equally electric and full of momentum. Rahman and Sri Lankan rapper/singer M.I.A. wrote the original song, "O... Saya" for the film and its a fantastic little track. Also included on the 13-track album is M.I.A.'s trailer song of the year, "Paper Planes" (yes, Boyle had it first before "Pineapple Express" - Boyle said so - but timing is everything) and "Gangsta Blues" a track which features Indian rapper BlaaZe.

Want an amazing musical moment that people won't turn the channel on during the upcoming 81st annual Academy Awards ceremony next year? Nominate the irresistibly good, "Jai Ho," the Bollywood number at the end of the film. How fantastic would it be to see them performance with all those kids, singing and dancing on stage? Or better yet nominate M.I.A and A.R.Rahman's "O...Saya ," and watch the pregnant rapper/singer and Indian superstar kick it on the stage. Hell better yet, nominate both of them. We're sick and tired of cornball meslimatic crap like "Enchanted" and "Dreamgirls" that suck the oxygen and fun out of the room. These performances would naturally have every holding their bathroom break until the commercials, trust us. We digress...

"Slumdog Millionaire" soundtrack tracklist.
1. "O... Saya" Performed by A R Rahman & M.I.A.
2. "Riots" by A R Rahman
3. "Mausam & Escape" by A R Rahman
4. "Paper Planes" Performed by M.I.A.
5. "Paper Planes" DFA REMIX Performed by M.I.A.
6. ""Ringa Ringa" by A R Rahman featuring Alka Yagnik & Ila Arun
7. "Liquid Dance" by A R Rahman featuring Palakkad Sriram & Madhumitha
8. "Latika's Theme" by A R Rahman featuring Suzanne
9. "Aaj Ki Raat" Performed by Sonu Nigam, Mahalaxmi Lyer & Alisha Chinoi
10. "Millionaire" by A R Rahman featuring Madhumitha
11. "Gangsta Blues" by A R Rahman featuring BlaaZe & Tanvi Shah
12. "Dreams on Fire" by A R Rahman featuring Suzzanne
13. "Jai Ho" by A R Rahman featuring Sukhvinder Singh, Tanvi Shah & Mahalaxmi Iyer
Posted by Rodrigo Perez at 7:32 PM 7 comments Links to this post  

Labels: A.R. Rahman, Danny Boyle, M.I.A., Slumdog Millionaire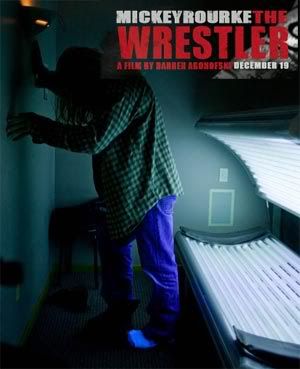 Fox Searchlight has given Variety exclusive dibs on the trailer to "The Wrestler," the Darren Aronofsky-directed film that everyone is touting as the comeback for actor Mickey Rourke. And with good reason, he's excellent in it and very-deserving of the Oscar. We love this trailer too, it starts out rockin' with Quiet Riot's "Bang Your Head (Metal Health Will Drive You Mad)," but quickly moves to the personal, somber tone of the film which is about shame, loss, struggling with ones identity, loneliness and finding your place in the world. It truly brings up back to the emotional moments of the movie that are really raw, honest and sometimes really painful.

"Witness the resurrection of Mickey Rourke" says one of the quotes. Indeed. The trailer also features the real version of Bruce Springsteen's "The Wrestler" song which definitely underscores its moodiness and introspective tone. That great line about Kurt Cobain and the '90s "sucking" is in there too which definitely reflects the great, subtle humor in the film (which there's a lot more of than you'd expect). "The Wrestler" co-stars Evan Rachel Wood, Marisa Tomei and hits theaters December 19. Here's our quick review of the film when we saw it at TIFF.

PS, the image is a poster we made courtesy of an image of a broken-down Mickey Rourke getting in a tanning booth that we found over here.

Posted by Rodrigo Perez at 6:24 PM 7 comments Links to this post  

Labels: Bruce Springsteen, Darren Aronofsky, Evan Rachel Wood, Marisa Tomei, Mickey Rourke, The Wrestler

Clips for the upcoming 2008 film, "Assassination of a High School President" surfaced online a long time ago, but we haven't posted about it yet. This could be due to the fact that the film's trailer has yet to be released, or maybe, we just forgot about it. Four clips from the film are on Youtube and many other sites now and have been for a while now.


Based on the four clips, we can sum up that
Reece Thompson
("

Rocket Science

") is a new kid at a catholic high school who thinks that he is some hot-shit reporter. Some SAT tests go missing and he is hounded by the principal, played by
Bruce Willis
to find the missing tests. Taking a knack to the young reporter is a sexy senior,
Mischa Barton
("

The O.C.

") who urges the new kid to help her find the tests. Sexual tension rises between them until the tests are found and their friendship develops.


Apparently the film delves deeper after a possible conspiracy is unearthed once the tests are found that drives Funke (Thompson) up a wall. Thompson's character comes off as somewhat of an ass without any real redeeming qualities, but this is based off of four minutes of clips. Willis looks as though he isn't going to take any shit as the principal which is a good role for him.
Posted by MP at 6:07 PM 0 comments Links to this post  

Labels: Bruce Willis, Mischa Barton, Reece Thompson
Cripes, ooof! Talk about your major, major goofs, no fuck-ups. Paramount's MTV Film's once owned the rights to the tween vampire goth sensation, "Twilight" but let it slip through their fingers?

Man, think that's a big deal, Hollywood Elsewhere calls it a, "titanic miscalculation." Apparently, MTV Films had the film rights, but put their development of the "Twilight" novels into turnaround back in 2006( the process in film production where the rights to a project one studio has developed are sold to another studio in exchange for the cost of development. Often used as jargon meaning the "death of a project.") Essentially, it's letting to go elsewhere for a small fee.

The L.A. Times examines what happened and there's a quite the blame-game and finger pointing going on. The Times' Patrick Goldstein says, "three ex-Paramount executives [have] all pointed the finger at Brad Weston, now the Paramount's production chief."


Weston of course is saying? Me? Why would I let a goldmine like that go? Essentially no one wants to be the fall guy for letting such a lucrative franchise go into the hands of a rival studio. Hindsight is 20/20, but still.

Weston passes the buck too and insists "he never killed the project, saying it was the responsibility of Scott Aversano, who succeeded Gale as president of MTV Films and Nickelodeon Movies and is now an independent producer on the lot."

But of course, history shows for the record that the vampire-teen flick was put in turn-around in early 2006 and "Aversano didn't take over MTV Films until late August 2006 and had no functional budget to buy projects until the year's end. Cue that tugboat sound they play in the cartoons when someone fuck ups. Let's see youth-film, youth demo, music, vampires, unrequited Teen love? Sounds like an project for MTV, no?

Weston evidently "questioned the genre's commercial prospects," again, 20/20, hindsight, all that, bu either way, not a good look, not good for business and not good for MTV Films that really haven't had a major hit on their in a long time (some of their bigger films were "Beavis and Butt-Head Do America" and "Jackass: The Movie"). This would have been gangbusters for the whole company.

Posted by Alexa Miller at 3:47 PM 0 comments Links to this post  

According to a post on the Biggie's Myspace, the soundtrack to "Notorious," the biopic of slain Brooklyn rapper the Notorious B.I.G. will hit on January 6, 2009 via P. Diddy's BadBoy records.

The disc will evidently feature many Biggie classics plus one of his demos and new tracks by Jay-Z, Jadakiss, and more.

Directed by George Tillman Jr., the film stars rapper Jamal Woodward as Bigs, Derek Luke as Puff Daddy, Angela Bassett as Mrs. Voletta Wallace (Biggie's Mom) and Anthony Mackie as Tupac Shakur among others.

"Notorious" comes out via Fox Searchlight on January 16 and the DVD is already being targeted for a May 5, release date. You can see the latest trailer for the film here.
Posted by Rodrigo Perez at 1:39 PM 0 comments Links to this post  

Labels: Angela Bassett, Anthony Mackie, Bad Boy Records, Derek Luke, Fox Searchlight, George Tillman Jr, Notorious, Notorious B.I.G., P Diddy, Puff Daddy, Tupac Shakur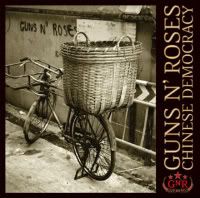 A personal message and non-movie-music tangent from the owner of The Playlist: As of this moment I have never heard Guns N' Roses Chinese Democracy. That is slightly untrue. I heard about 15 seconds of one of the leaked demos about 6 months ago and I heard that song that played at the end of Ridley Scott's recent CIA thriller "Body Of Lies."

There's a line in one of the best movie's of all time, "Top Secret," where the the old Doctor Flamond says to Val Kilmer's character about the existence of a secret WWII weapon, "If they find out you've seen this, your life will be worth less than a truckload of dead rats in a tampon factory."

And that's how I sort of feel about Chinese Democracy. It's value to me is about as much as a truckload of dead rats in a tampon factory - I could give a flying fuck. So I hereby solemnly swear that for the rest of my life, I will actively never listen to Chinese Democracy. If it is ever playing in a room I will walk out and never return. If It plays at a party, I will leave. I don't care. I detest Axl Rose and always have. I have zero interest. The level of press attention is nauseating. The end. We will never speak of this again.

Posted by Rodrigo Perez at 1:06 PM 8 comments Links to this post  

Labels: Axl Rose, Body Of Lies, Guns N' Roses, Ridley Scott, Top Secret, Val Kilmer
Dear Josh Brolin,
If you know this project is this bad. Why risk your career? This has "Ghost Rider" written all over it.

We digress. Yesterday evening Variety reported that the original writer and director of the "Jonah Hex" D.C. Comic book adaptation had left the project due to "creative differences," but that Brolin was still expected to star in the project (though it sounds like with no director/writer now, and rehiring need to be made, this one is way off in the distance now).

MTV's Splashpage talked to Brolin and he basically suggested every reason why he shouldn't take the project. But it sounds like his sense of irony is getting the best of him.

"When I first read it I thought, oh my God it's awful!" Brolin told MTV. "And then I had a moment a week later and I thought why is it awful? Maybe the thing to do is to do the most awful movie I can find."

What?? Are you high? Brolin has probably just missed his first Best Actor Oscar nomination by playing George W. Bush (he's cooled off and probably just outside the frame) and now he wants to take his career in this kind of direction?


The guys who were going to direct and write, where the energy-drink chugging and testosterone-fueled "Crank" guys (action junkie hacks) and apparently the film was going to be very wacky and over-the-top (which you'll know is nothing what Jonah Hex the comic was like; it was mood oriented and dark). "[I love] the absurdity of it. It almost allows you to create a new genre. I love going back into the spaghetti western idea and completely turning it around."

You gotta love the creative license some people take with adapatations. Why not just add in bears on unicycles and dancing clowns?

The film sounds like a joke and Brolin sounds like he's into it, but still on the fence over whether he'll commit. "I've been going back and forth about it. I went back to my gut. Is it a sell out? What is it I like about this movie? … It's so tongue in cheek. It's so ridiculous. But once I started putting people in my mind and saying what if I put Malkovich in this role then what does this movie become? Now let's put this producer and director on it and think about how it plays out. Then it becomes fun. Now I love that movie. If you have a great filmmaker come in then suddenly these gags and characters become interesting."

Dude, the "it's so bad it's good," irony is so late '90s, don't do it. Do not trainwreck your career, especially since you've been acting for decades and its taken "No Country For Old Men," to finally get you noticed into getting A-list roles. We're hope your agent is reading this.

Posted by Rodrigo Perez at 12:50 PM 0 comments Links to this post  

Labels: D.C. Comics, Ghost Rider, Jonah Hex, Josh Brolin, No Country For Old Men
The 2009 Sundance Film Festival will be opening with a film starring Philip Seymour Hoffman and Toni Collette. Whats the big deal? Well as opposed to watching the two actors in all their misery and angst in live action, we are going to see them represented through claymation. That's right, fucking claymation, which will be shaping Collette into an 8-year-old Australian girl and will be apparently taking no liberties with Hoffman as he is being represented as a 42-year-old obese New Yorker.

The film follows the two as they fill the voids in their lives by forming a pen pal relationship. Sundance director Geoffrey Gilmore said the decision was made to have the film open the festival based on the moving themes it represents. "This portrait of a global friendship between two marvelously dysfunctional people is an exceptionally moving, funny and thought-provoking work."

The director of "Mary and Max" Adam Elliot explained the long and arduous process they underwent to complete the film. "By Opening Night it will have been five years since Melanie [Combs] and I began working on the film. It has been a whale of a pregnancy and we are so thrilled that the birth will be in Sundance."

The film premieres at the Sundance Film Festival in Park City Utah on January 15th, the full program will be released December 3rd and 4th.


Posted by Spencer Martin at 11:00 AM 0 comments Links to this post  

Labels: Adam Elliot, Mary and Max, Philip Seymour Hoffman, Sundance Film Festival, Toni Collete
The Jamie Fox, Robert Downey Jr. vehicle "The Soloist" was originally scheduled to be released in the midst of Oscar season this November, but was pushed back to March and now has been bumped to the first official day of summer releases, April 24th.

The move was orchestrated by both Dreamworks and Paramount, who seem to think the summer pop-corn season is a better fit for the star driven picture than the competitive November Oscar season or the March no-man's land it was previously given.

In an attempt to fill the void left in March by the movement, Paramount moved the Paul Rudd comedy "I Love You Man" from January to March. "The Soloist" follows an L.A. Times reporter, Downey Jr., as he attempts to help a mentally-ill, homeless musician (played by Fox) who dreams of someday playing in the Disney Concert Hall.
Posted by Spencer Martin at 10:49 AM 0 comments Links to this post  

Labels: DreamWorks, Jamie Foxx, Paramount, Robert Downey Jr., The Soloist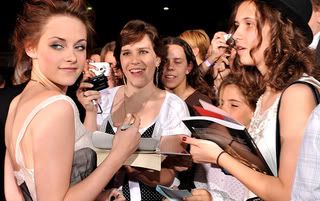 Teen girl juggernaut and vampire zeitgeist "Twilight" is set to open this weekend and with that comes a rash of reviews and stories downplaying the potential box office success of the movie. Reuters weighed in with a warning that "some industry watchers are wondering if all the hype could be too much of a good thing," followed by a page of reasons why "Twilight" will make a boatload of money. The article places a lot of emphasis on the loyalty of the Twilight book fans but some simple math tells us that even if all 17 million people who bought a book also buy a $7 movie ticket the film still only grosses $119M - and earlier stories have reported the first movie needs to break $150M to get serialized.

One corner "Twilight" isn't counting on are the critics. Although Jeffrey Wells may have endorsed it, Roger Ebert is having none of it and gives "Twilight" two and a half stars. His review reads like we expect many reviews from male critics to read - completely oblivious to the idea that "Twilight" is actually based around the female lead and impatient with all the teenage lust that's central to the story. Ebert's review at times seems kind of creepily personalized, for example:

"Should a woman fall in love with a man because he desires her so much? Men seem to think so. It's not about the woman, it's about the man's desire. We all know there is no such thing as a vampire. Come on now, what is 'Twilight' really about? It's about a teenage boy trying to practice abstinence, and how, in the heat of the moment, it's really, really hard. And about a girl who wants to go all the way with him, and doesn't care what might happen."
Then again, what about "Twilight" isn't creepily personal for everyone - from author Stephenie Meyer to Robert Pattinson to the majority of teenage girls who've been inside a Barnes & Nobel. THR reports that, in spite of all our doubts, opening day midnight showings of "Twilight" have been selling out and ticket pre-sales are already higher than "High School Musical 3" and the last two 'Harry Potter' movies. At this point around 1,100 first weekend showings are sold out via Fandango and MovieTickets.com. People are predicting all kinds of opening weekend numbers for the film. We've seen huge spreads going from $30M to $60M that all the authors at The Playlist can't even agree on. Looks like no one's really prepared to commit to what the teen girl market will do.

Posted by Astrud Sands at 10:30 AM 2 comments Links to this post  

Labels: Jeffery Wells, Roger Ebert, Twilight
This spoof of a Variety staff meeting has surfaced recently on Will Ferrell's comedic website, Funnyordie.com. It is pretty funny and worth a view but beware, it contains a copious amount of strong language.

Posted by Spencer Martin at 10:27 AM 0 comments Links to this post  

Labels: funnyordie.com, Variety, Will Ferrell
11/19/2008

Some thoughts on "Australia" now that the screening is let out and people are likely rushing to judgement on the IPhone/Twitter posts or whatever.

1. Baz Luhrmann sure wasn't kidding when he said he would be delivering a huge, full-on meal. The film is a banquet, a feast, a overstuffed treat with dessert and the whole trimmings. There's an argument made that this seven-course-meal tries to gorge you, but it is unapologetically vast and rich. It is cliche riddled, but it does its damndest to transcend those moments.

2.It's a throwback film for sure. A classic Hollywood, old-fashioned Western cum romance beast complete with that same kind of cornball, light-on-its-feet humor and overacting you have to adjust to at first. The prim woman hates the unrefined man is straight, "Out of Africa."


3. This is a Baz Luhrmann movie with everything that brings. It's an over-the-top spectacle, lush, sumptuous and dreamy. It's overblown: that gushing ooze of almost John Williams-esque music, lens-flared frames, melodrama, and thrilling sequences. The poster really does say it all for better or worse. It's not subtle and neither is the movie.

4. There's little in way of realism, it's very magical, fanciful, swooning, a lot of elements you'd expect if you'd follow Luhrmann's career over the years. The villains twirl their moustaches, the good guy is rugged horse, who rode around on a few adventures by his lady is finally broken in, giving in to big sweeping romance.

5. The star of this thing is the country and the little aboriginal boy Brandon Walters. He is a charming delight and with less of a captivating boy, the film may not have worked. He is the glue that holds the picture together. And the story is more or less about him anyhow.

6. Oscar? Hmmm, much like "Moulin Rouge," this will be a polarizing film. Some will love its ambition and gorgeous photography and some will find its excess leaves them with a toothache. Technical achievements are shoo-ins. Mandy Walker can dust off her cinematography nomination now, but we get a sense that this may be too overindulgent to some. Critics will likely be mixed. Neither Jackman nor Kidman are getting anywhere near the Academy podium and you've surely deduced that by now, but Jackman does do a solid job, of playing the leading man.

7. The cynic in us tell us we must laugh off some of the cheesier moments in the film, and the optimist is almost swept up off our feet in the drunken swirl of romance. The cineaste is us does admittedly get a boner from some of the panoramic vistas and the unbridled spectacle of it all. One might not have enjoyed it or been drawn in by its highly stylized affectations, but one has to at least admire its grandiosity at the very least.

Will audiences connect with en masse. As we predicted before, it'll depend on whether Oscar endorses it or not. And right now, we'd say that's 50/50 and no sure bet. We'll have to wait and see how American critics take to it, but it's not a perfect and a bumpy, unwieldy ride at times. We'll say this: at 2 and a half hours length, we were never restless or checking our watches. It could have wrapped up perhaps 10 minutes quicker, but that's no dealbreaker.

Posted by Rodrigo Perez at 10:45 PM 5 comments Links to this post  

Labels: Australia, Baz Luhrmann, BrandonWalters
Uh, don't get your hopes up.

Will you happen to be at Disney's "Bolt" this weekend with your kid, your little sister or as part of your court-ordered Big Brother community service? If so, while you're rocking out to Motorhead during the film, get their early for "Glago's Guest" an animated Disney short directed by Chris Williams (co-director of "Bolt," he wrote the story of "Mulan" too) there was another reason to be there. This animated-in-3D short will precede "Bolt" and tells the story of a strange meeting between a Russia soldier guarding a Siberian outpost and an extraterrestrial.

Why? Well, for us, one reason. "Glago's Guest" was scored by composer/producer / multi-instrumentalist Jon Brion who's been busy this year haven written movie scores to Charlie Kaufman's "Synecdoche, New York," and Will Ferrell's "Step Brothers" (and having already famously composed the music to "Eternal Sunshine Of The Spotless Mind," "Magnolia" and Punch Drunk Love" - a hipster trifecta!) .

We have no clue what Brion's music in 'Guest' sounds like and this clip from the short (same one embedded below) doesn't help, but if you're being dragged to "Bolt" you might as well get something out of it. Oh, wait, as we were finishing this post, we found out 'Glago' got pulled from "Bolt" just a few weeks ago with no explanation. Well, ummm, we've written this post, hmm, yeah. Nothing to see here, please disperse...

Posted by Rodrigo Perez at 6:15 PM 0 comments Links to this post  

Labels: Bolt, Chris Williams, Disney, Glago's Guest, Jon Brion
Vanity Fair have this cool table reading piece on Judd Apatow's "Funny People," where the cast sat down together and, well, read through the script. It's interesting to note that the RZA of the Wu Tang was there. We didn't realize his part was so big. Even Aziz Ansari from "Human Giant" isn't there and he surely has much more acting experience than the RZ (click on the image for a larger version or here).

"Doing table reads is one of my favorite parts of the process," Apatow told Variety. "It gives me an opportunity to watch the movie before we've made it. It's fun and productive, but truly painful when it's not working.

"Funny People" stars Adam Sandler as a lonely comedian who believes he is dying. He befriends the struggling comedian Seth Rogen who becomes an assistant/errand boy, plus a genuine friend. Jonah Hill, Jason Schwartzman and presumably the RZA play his envious friends/ comedian buddies and Aubrey Plaza plays the object of his affection. Leslie Mann plays the ex-girlfriend that Sandler let get away and Eric Bana plays her dbag husband.

Apatow says of the story, "It's three or four different movie ideas which I decided to combine—the mentor movie (Sandler and Rogen's relationship), the comedians movie, the death-and-disease movie, and the quest-to-renew-an-old-romance movie (the Sandler-Mann-Bana triangle). Oh, and a coming-of-age movie and a farce. Obviously, a natural combination."

As many have noted it's probably going to be his most melancholy film if the script is any indication. It's also based on his early friendship with Adam Sandler, the two of them were roommates before they were ever famous. "When I lived with Adam, we were young comics and he was so much more charismatic than me it was ridiculous. It was always obvious that he was going to be a movie star, and that I was going to be a guy who knew a movie star."

Apatow was quoted in Variety today as saying he hopes his gang don't wear out their welcome with audiences. "I hope people like the movies and don't get sick of us," he said. "When I was a kid, Steve Martin could not make enough movies to make me happy." "Funny People" comes out July 31, 2009.

Posted by Rodrigo Perez at 5:48 PM 2 comments Links to this post  

Labels: Adam Sandler, Funny People, judd apatow, RZA, Seth Rogen
Not much, but it should be a start. FoxNews (?!) has a little information about upcoming Oscarbait picture "The Reader" starring the always interesting Kate Winslet. Though details are sketchy, they seemed to really dig it. We're not sure that FoxNews will ever become an authority on any film but for now we'll take what we can get.


Based on the much-acclaimed novel by Bernard

Schlink

and

helmed

by director Stephen

Daldry

(The Hours, Billy Elliot) 'Reader' is one of two films coming out this fall that stars

Winslet

in a role that should generate some Oscar buzz. The film is the story of a tawdry affair between a fifteen year-old German boy named Michael and an older woman named Hanna. Years later, the now-adult Michael (played by Ralph

Finnes

) discovers that Hanna is being tried as a war criminal responsible for the deaths of nearly three hundred women during the Holocaust.
Fox praised the (apparently graphic) sex scenes between

Winslet

and David

Kross

(an eighteen year-old actor who learned English for this role) as having "sizzling chemistry" and say that

Finnes

"could not be better." They reserved the greatest approbation for

Winslet

herself, saying that she is "...a revelation in "The Reader," and quite different than in "Revolutionary Road." That she could have both movies in one season is really the achievement. In "The Reader" she not only ages drastically, but she manages to convey with depth the emotions of a sexually voracious 40 year old and an embittered, incarcerated 60 year old. And, as it turns out, each of these

personas

also shares one more: a concentration camp guard with no regrets." Wow...they go on to praise David Hare's script and call this movie "the opposite of "Valkyrie" in its subject matter and intentions." Pretty high praise coming from those hotheads. Anyway, this gets us even more excited for

Winslet's

forthcoming movies.

"The Reader" is set for for a December 10 release.

Posted by Seth Valentine at 4:21 PM 0 comments Links to this post  

Labels: David Hare, David Kross, Kate Winslet, Ralph Fiennes, Revolutionary Road, The Reader

The anti-family friendly metal band, Motörhead, are set to have their song "Dog-Face Boy" featured in the upcoming animated Disney movie, "Bolt." The film follows a superhero dog as he attempts to be reunited with his owner, voiced by Miley Cyrus, or something like that.

"Dog-Face Boy"'s role in the film is being limited to the music that a degenerate mail room employee is rocking out to while he mistakenly wraps Bolt up in a packed and ships him across the country. This isn't the first time Motörhead has appeared in an animated movie, one of their songs was used in the "SpongeBob SquarePants" movie. In a press release, the mans leader Lemmy gave the very tobacco-company-esque statement of "It's never too early to get the kids started on our music!"

"Bolt" comes out November 21st and will surely gross something around $100 billion on the first weekend. Motörhead is currently on tour in Europe but is planning a U.S. tour for 2009.

Motörhead - "Dog-Face Boy"


Posted by Spencer Martin at 3:30 PM 4 comments Links to this post  

Labels: Bolt, Dog-Face Boy, Motorhead, Spongebob Squarepants
It's easy to dog Leonardo DiCaprio. His career started out on such a high note, "This Boy's Life," and "What's Eating Gilbert Grape" (Oscar nom), and then devolved into a lot of unmentionable crap. He earns points for working with Marty Scorsese, but he never really felt at home in any of those films until, "The Departed."

In our minds, he's hit his stride, he was very solid in Ridley Scott's so-so "Body of Lies," (and finally felt like a man playing man's roles instead of a young adult doing so), and he seems great in "Revolutionary Road" (we said Leo was "outstanding")

Maybe working with Scorsese is paying off because DiCaprio's taste is a lot higher-minded than we would have thought for him.

On Stanley Kubrick's 2001 being in his top 5 movie list: "By definition, you're very correct, but I think it's hard to… I don't even define 2001 as a film; it's more of a religious experience."

De Sica's "The Bicycle Thief" (aka "Bicycle Thieves"): "Top three! That's one of the purest movies I have ever seen."

DiCaprio also loves Kubrick's "The Shining," (who doesn't?), but we have a super special place in our heart for that one.

On "Revolutionary Road," he calls the experience a brutal one: "It was one of the more emotionally painful movies. It was depressing, making this film, I have to say. As great as it was to work with Kate, I was happy to get out of…not happy to wrap the film, but happy to stop arguing with my wife for months straight, confined in a tiny suburban house. We were really shooting in a tiny little house, and the entire crew was there, smashed into this little two-bedroom house. There was no way to get out; there was nowhere to run. The claustrophobia was pretty intense after a while. After eighteen months of work, I'm trying to figure out what normal life is like again."

Also, who knew that Leonardo turned down "Boogie Nights" to do "Titanic"? We may have heard that one before, but it never stuck.

DiCaprio also professes his love for Brian Atene's audition tape for Kubrick's "Full Metal Jacket" in 1984 leaked in 2006 and became an interweb sensation due to Atene's unintentionally hilarious hubris and over-acting (you must watch this). The full interview is over at GQ.

Posted by Rodrigo Perez at 3:11 PM 0 comments Links to this post  

Labels: Leonardo DiCaprio, Marty Scorsese, Revolutionary Road, Stanley Kubrick

Well, it looks like MGM might be out of luck this time. Their Tom Cruise/Nazi vehicle "Valkyrie," which has been the subject of a massive and shifting marketing campaign, might not live up to the lofty expectations. In fact, this one might end up being more the hilarious comedy we had hoped for and less the thriller as which it's currently being sold. According to the folks over at The Scoop (via /Film), Cruise's performance in the film is anything but thrilling.

Apparently, much like his turn as studio head

Les Grossman

, Cruise is quite (unintentionally) amusing in "Valkyrie." According to The Scoop, a particular scene wherein the actor is forced to salute Der Fuhrer is downright comical: "It's an unsettling scene but you almost start to laugh…His character is resisting it but you never forget it's Tom Cruise saying 'Heil Hitler.' It's funny and shocking at the same time." Hmm...sounds kinda silly. Sources go on to claim that Cruise's character later removes his false eye, which "...was disgusting, it was like watching someone pluck their contacts out." Yikes.
Frankly, with Bryan Singer directing and Cruise in the lead role, there's lots about this movie that is suspect. We still hope it will be in the vein of "The Usual Suspects," but all the marketing strangeness and with a lot of eggs in this basket, the situation seems rife for disaster. As the Times reported, the studio spent at least $75 million on this thing, with some sources reporting up to $90 million. They also noted that the project was conceived between Cruise and longtime producing partner Paula Warner almost two years ago; in the intervening period Warner has left MGM and Cruise has scaled down his attention to production in hopes of relaunching his star as an actor. Thus, MGM chairman Harry E. Sloan has an extremely expensive star vehicle with a possibly fading lead actor, conceived by two people who are no longer calling any shots and a massive budget that needs to do well to ensure the studio can continue to attract talent. All we can say is good luck.
Posted by Seth Valentine at 2:31 PM 1 comments Links to this post  

Labels: Bryan Singer, Harry E. Sloan, MGM, Paula Warner, Tom Cruise, Valkryie
Yeah, that's right. If you're going to give someone a Best Supporting nod in the mostly-Oscar-unworthy, "Tropic Thunder", give it Tom Cruise as the slimeball mega-film producer Les Grossman (better yet, give it to no one, but if you're going to...). Robert Downey Jr. just wasn't that good (or that funny).

Tom Cruise's final dance to Ludacris' "Get back" in 'Thunder' is now online. He was the best part of that movie (Bill Hader was pretty great too).

Posted by Rodrigo Perez at 1:29 PM 0 comments Links to this post  

Labels: Les Grossman, Robert Downey Jr., Tom Cruise, Tropic Thunder
Guess who's composing the music to Sacha Baron Cohen's 'Bruno' (possibly subtitled: Delicious Journeys Thorugh America For The Purpose of Making Heterosexual Males Visibly Uncomfortable in the Presence of a Gay Foreigner in a Mesh T-Shirt")?

His brother, Erran Baron Cohen who sat down recently with Vulture to discuss the film's soundtrack. Cohen alluded to the fact that the score is going to chalk full of gay-themed tunes to keep in line with Bruno's persona, that of an out and proud Austrian fashion journalist.

When asked how the music selection would be different from "Borat," which he also scored, Erran Baron Cohen replied, "Its a lot gayer. That's the key thing, I think. There's a lot of gay influence in the music. I am investigating a lot of gay things at the moment. I just bought the CD called "Gayfest 2008," and that's my main influence." When pressed for details on "Gayfest 2008," Baron Cohen replied with,"It's got a guy with a sort of muscle-y bare-chested look on the front. It's got Jackie 'O,' "Before He Cheats." It's contemporary gay club, dance pop."

Sounds hilariously great, we can't wait. 'Bruno' is currently filming, and has recently been in the news for allegedly disrupting the set of the NBC show "Medium." According to EW, production had to be halted due to constant interruptions from an extra in the jury box, who turned out to be Sacha Baron Cohen disguised as his alter-ego, Bruno.

Posted by Spencer Martin at 1:15 PM 0 comments Links to this post  

Labels: Borat, Brüno, Erran Baron Cohen, Gayfest 2008, Medium, Sacha Baron Cohen