Forget Jonathan Demme's messily self-involved, over-lapping dialogue happy, Altman-esque family melodrama, "Rachel Getting Married" (did we establish this connection with our lame headline?), if you want the real, true and honest portrait of dramatic family dynamics with a torrential rain of verbiage and documentary-like roving camera, "The Secret Of The Grain," is your picture (and of course sans shrill Bland Hathaway).

We'll try and not get into it too much as one of contributors also saw it and loved it and wants to write the film's full-blown review, but Arabic Tunisian director's Abdel Kechiche ("Sorry, Haters") is another wonderful, late-year edition to 2008 (the film opened up in limited release December 24).

The French-language film centers on the patriarch in a divided Algerian French family named Slimane (Habib Boufares, the character's name is pronounced Souli-mane); an immigrant doc worker who loses his job and then aspires to start up a restaurant with the help of his girlfriend and her daughter and his family and ex-wife; the latter of which an amazing cook that makes that greatest fish couscous this side of the Maghreb (the title of the film references the cuisine, "La Grain Et Le Mulet" basically means "The Couscous And The Fish"; mullet being a type of small fish that's an integral ingredient to the dish).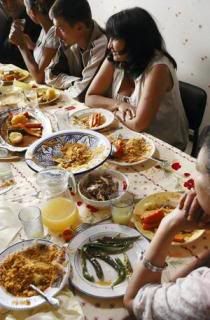 We're already saying too much, but in closing, 'Grain' is not afraid of talk instead of plot and it will stick with an extended scene far longer than you average director would dare. It's alive, intense and boisterous, but rewarding, teeming with life and incredibly vibrant. The remarkable emphasis on character to inform story is a fascinating reverse angle at establishing some of the class, intolerance and socio-immigrant issues too. The heartbreaking ending is also up there with "No Country For Old Men," "There Will Be Blood" in drop-dead powerfully jolting conclusions.

The film currently has an incredible 92% rating on Rotten Tomatoes and comes with a ton of accolades including 4 trophies at the 2008 César Awards (The French Oscars) including Best Picture, Best Director, Best Screenplay, and Best Female Newcomer (Hafsia Herzi). It also earned a lot of accolades at the 2007 Venice Film Festival. We're not sure if it's been released, but we're told the New York Times A.O. Scott has placed the film in his Top 5. In other words if you remotely appreciate intimate, vociferous and and fully living and breathing family ensembles, you must see this film. Those that remember and love the vastly underrated 1996 Campbell Scott/ Stanley Tucci preparing for the big dinner film, "Big Night" should enjoy this as well. Fair warning: do not miss this film.