We've gone from Sundance sucks, to two Sundance pieces within the hour. Way to go Playlist. We thought we'd chart (possibly for our contributors in Utah), some of the music related films at the film festival which starts tomorrow (January 15) and runs until January 25.


First off is Tom DiCillo's "When You're Strange," a documentary about the '6os acid-rock band The Doors. Now we hate that band and wonder why anyone would bother on that level, but they do have an interesting history and story, so maybe they'll be great footage of drunken, bloated era Jim Morrison. It can't be any worse than Oliver Stone's "The Doors" can it?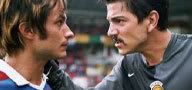 "Rudo Y Cursi," the new film teaming up old "Y Tu Mama Tambien" pals Diego Luna and Gael Garcia Bernal as directed by Carlos Cuaron (Alfonso Cuaron's younger brother) features tracks by Juana Molina, Devendra Banhart, Nortec Collective and Mexican artists like Juan Son, Nia Dioz and Adanowsky (Bernal sang on Banhart's "Cristobal" from the album Smokey Rolls Down Thunder Canyon and then included the song in the credits of his feature-directorial debut, Déficit.")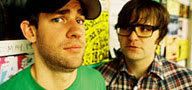 John Krasinski from "The Office" directs the David Foster Wallace adapted "Brief Interviews with Hideous Men" starring himself, button-cute Rashida Jones and many others. Death Cab For Cutie's Ben Gibbard once had a small role in Krasinski's film, but we were told a few months ago, his small role was cut out of the film. But Gibbard probably has done something musical for the film, no? Krasinski also seems like he has Stereogum-ish taste so look and listen for indie-lite hipster music in this one.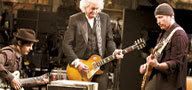 It Might Get Loud/U.S.A. (Director: Davis Guggenheim)--The history of the electric guitar from the point of view of three legendary rock musicians. Cast: The Edge, Jimmy Page, Jack White. (We saw it at the Toronto Film Festival)



Passing Strange/U.S.A. (Director: Spike Lee; Lyrics: Stew; Music: Stew and Heidi Rodewald)--A musical documentary about the international exploits of a young man from Los Angeles who leaves home to find himself and 'the real'. A theatrical stage production of the original Tony-Award winning book by Stew.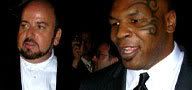 Tyson/U.S.A. (Director: James Toback)--An intimate look at the complex life of former heavyweight champ Mike Tyson. Cast: Mike Tyson. (Queens rapper Nas has written a new song for the film)




Canadian rock musician and former member of Hole and the Smashing Pumpkins, Melissa auf der Mar upcoming album, Out Of Our Minds, is accompanied by the short-film of the same name. Months ago, it was "Viking-themed" and directed by Tony Stone "(Severed Ways: The Norse Discovery of America") so we assume that hasn't changed. The 30-minute time-travel fantasy film includes no dialogue and has a totally separate instrumental trance-y rock music soundtrack.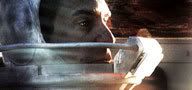 Clint Mansell, the notable composer behind all the films of Darren Aronofsky ("Requiem For a Dream," and one time Pop Will Eat Itself member) has written the music for "Moon" directed by David Bowie's son Duncan Jones and starring Sam Rockwell as a solitary man trapped on the Luna. Mansell used post-rockers Mogwai and celebrated classical group the Kronos Quartet to perform the music of "The Fountain" and Guns' N' Roses' Slash to perform the moody and minimalist guitar music of "The Wrestler" so his work is always interesting and always worth taking a closer listen to.


Greg Mottola's coming of age dramedy "Adventureland"s soundtrack is replete with good music, and features a rock score for Hoboken indie rockers Yo La Tengo. Set in the 1980s, there's supposedly some 50+ songs used in the film including classic tracks by Neil Young, The Smiths, Lou Reed, Falco, Husker Du and many, many more.


Micheal Cera and his girlfriend, comedienne Charlyne Yi obviously have the pseudo-documentary, "Paper Heart" in competition and they've actually written the music to the film too (Cera is an accomplished musician and has a silly joke band with "Clark And Michael" actor and friend Clark Duke called, The Long Goodbye).


Lastly, singer songwriter Duncan Sheik has written the score to the film "Dare" that stars Emily Rossum and Zach Gilford in a story that chronicles three very-different teenagers through the last semester of high school. There's the overachieving good girl who longs to break out of her shell (Rossum); the melancholy outsider confused about his sexuality (Ashley Springer), and the rich kid who has everything, including good looks, but hides behind his bad-boy persona (Gilford). '90s alt-rock gal Poe also helped out. Remember her? The twosome are in a band called, The I Love You.

Additionally, the film "Push," features Mariah Carrey and Lenny Kravitz as actors in the film, indie-rockers Casiotone for the Painfully Alone scored the film, "Stay the Same Never Change," the interracial friendship tale, "Toe To Toe" features Go-Go artists Anwan Glover and The Backyard Band, The Total Control Band, Tabi Bonney, and Thievery Corporation and "Unmade Beds" features songs by idiosyncratic musicians like Kimya Dawson ("Juno"), Jeffrey Lewis, Daniel Johnston, and the Tindersticks.

And that's just what we know right now (and all we have time for, there's more). Typically, people don't promote music in films in advance (hint, hint) and so in past years, we haven't found out about the interesting musical connections at Sundance until after the films have played. But if you know of something or were involved in some film in a musical capacity, we'd love to hear from you so holler.