Is it too late to post our
even

More
"
Anticipated
"
List of 2009
films since it's practically February? Since Sundance has already happened and this was in the can, it is a moot point? Considering the fact, not all these films are necessarily
"anticipated"
by any of us, but more of a run-off piece from things that didn't make our
Most Anticipated List
, our
Least Anticipated List,
our
Could Be At Least Entertaining List
,
TWO Sundance '09
preview features
and our
Indie/Foreign Anticipated List
, should we probably just toss this feature in the garbage, right? [ed. we've probably mentioned over 200 films in all of these easily]
Probably,
but
there are starving children in Africa and our parents always told us to never waste anything so with that in mind, without further ado,
The Playlist's Random, Left-Over and More Sorta-Anticipated Films of 2009
list. BTW, there are obviously more than 17 films written about here, but that's how many we did in full-blown blurb earnest.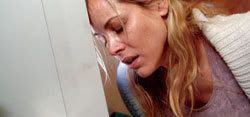 "
Downloading Nancy
" - Strand - Dir.
Johan Renck
Synopsis
: Married Nancy (
Maria Bello
) leaves her married life after meeting Louis online so that they can partake in what the movie's website refers to as "smutty chat rooms" and "alternative websites." The duo does this as a method of giving themselves up to the kinds of impulses and urges that takes years of therapy to undo. Basically they just wanted to get freakier than your average internet couple.
What You Need to Know
: Maria Bello's performance is being heralded as daring and provocative by those who have seen it. Some press material hints at shocking material that may rival fellow Sundance selection "
The Informers
," but tempered with a story of seeking salvation in the same dark corners that initially caused the main characters' emotional scars. Also stars
Jason Patric as Louis,
Rufus Sewell

as Nancy's husband and

Amy Brenneman

. It just sounds fucked up enough to interest us.
Release Date
: May (limited)
"
Cold Souls
" - No Dist. yet - Dir.
Sophie Barthes
Synopsis
:
Paul Giamatti
plays an actor that literally puts his soul on ice in order to overcome the tribulations of playing Anton Chekhov's Uncle Vanya. His soul is stolen and given to an undeserving soap opera actress. Inevitably, Giamatti's character embarks on a trek to redeem his soul, learning much along the way.
What You Need to Know
: "Souls" should appeal to
Charlie Kaufman
fans with its alternately quirky, dramatic and funny narrative. The impressive cast also includes
Emily Watson, Lauren Ambrose
and
David Straithairn
.
Release Date
: None yet (pending distribution deal, but it didn't sell at Sundance, at least not yet...)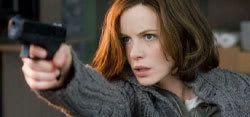 "
Whiteout
" - Warner Bros. - Dir.
Dominic SenaSynopsis
: The only U.S. Marshal in Antarctica (
Kate Beckinsale
) tries to solve a murder in the few days before the brutal winter sets in.
What You Need To Know
: The film, based on the comic book by
Greg Rucka
and
Steve Lieber
, had a bumpy road to the silver screen, finally landing in the hands of the helmer of "
Gone in Sixty Seconds
" and "
Swordfish
." Co-starring
Gabriel Macht
and
Columbus Short
, it is anyone's guess how this murder mystery, but along with "
Insomnia
," seems like we are only a few films away from an Arctic detective subgenre.
Release Date
: September 11, 2009
"
The Goods: The Don Ready Story
" - Paramount Vantage - Dir.
Neal BrennanSynopsis
: A car dealership in trouble calls in some questionable experts to help sell automobiles.
What You Need To Know
: A cast of
Jeremy Piven
,
Ving Rhames
,
Ed Helms
, and
James Brolin
suggests some kooky characters, as does the director's previous association with
Dave Chappelle
. The crazy group descending on a peaceful small town isn't exactly a novel approach, but there's always the chance this crew can mine some humor.
Release Date
: August 21, 2009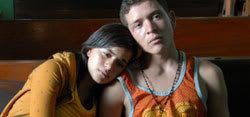 "Sin Nombre" - SPC - Dir. Cary Fukunaga
Synopsis: Three teens' stories converge on a train heading from Mexico to the United States.
What You Need To Know: Loosely described as a "social-political thriller," the film seems to defy categorization, an exciting hint to the film's potential. Fukunaga is receiving lavish, near-universal early praise for his feature-length debut. The film won two awards at Sundance including Best Director and today he scored two great writing/directing deals with
Focus Features
and
Universal
Studios.
Call that a ringing endorsement.
Release Date: March 20 (limited)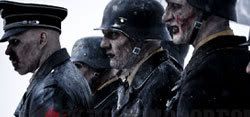 "Dead Snow" - IFC Films - Dir. Tommy Wirkola
Synopsis: When teens go on a skip trip, what's the only thing that could happen worse than zombies? Nazi zombies, of course.
What You Need To Know: A Norwegian movie that played Sundance, the premise seems so outlandish, this apparently gory movie already feels like a parody of itself. Probably best left for those who appreciate these kind of movies, the film has practically guaranteed itself a slot in cult film festivals for years to come.
Release Date: TBD, but it

was

bought by IFC Films, presumably for later this year.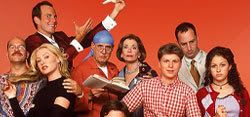 "

A

rrested Development

" - Fox Searchlight - Dir.

Mitch Hurwitz/Ron Howard




Synopsis

: A wealthy, fragmented family dips further into turmoil when the patriarch is first accused of insider trading and then breaks free, deceiving them all. Is it a trick... or an illusion??


What You Need To Know

: Based on the definitive "funniest show no one ever watched," there's the sense that its probably not a smart play that people will shell out $10 for what they ignored for free over three years of programming. Still, the cast of the Emmy winning show can now pretty much write their own check. As has been much-discussed to the point of nausea: the ball is sorta in George Michael/Michael Cera's court, but there's also that pesky script none of the cast seems to have read. No one knows if it actually exists.


Release Date

: TBD.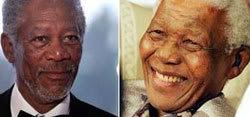 "

Invictus

" (formerly titled "The Human Factor") - Warner Bros. - Dir.

Clint Eastwood




Synopsis

: A friendship blooms between

Nelson Mandela

and a rugby coach after post-apartheid South Africa hosts the World Rugby Cup.


What You Need To Know

: This is pretty touchy-feely stuff, and Eastwood occasionally directs some dodgy awards-bait, but he's no dummy, and sometimes he can shoot some pretty straightforward, clear-eyed drama. He's also got one of his favorite collaborators in

Morgan Freeman

, who's such a no-brainer to play Mandela.

Matt Damo

n

will star as the team's coach/star player, so we're getting some politics, some sports action, some of the usual Clint macho bonding, and two standout actors in heavy roles.


Release Date

: December '09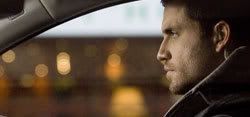 "

Ilich: Story Of Carlos

" - No Distributor - Dir.

Olivier Assayas




Synopsis

: Story of the life of Ilich Ramirez Sanchez, the Venezuelan terrorist who brought the OPEC to its knees in the seventies while running an underground operation as the mythical

Carlos the Jackal.




What You Need To Know

: Canal Plus is financing this major effort, a three-part TV event that will also have a theatrical release.

Edgar Ramire

z of "

Domino

" and "

The

Bourne

Ultimatum

" is starring as the criminal, who is currently serving a life sentence in France. Assayas is an exciting voice with a punk rock aesthetic, and showed his range with the yet-to-be-released "

Summer Hours

," a family story that played to raves at the New York Film Festival, and with a serious budget at his disposal, expect this to be an exciting departure from your usual biopic.


Release Date

: Shooting is ongoing, so an end-of-the-year slot seems possible.


"

Paul

" - Universal - Dir.

Greg Mottola




Synopsis

: Two British sci-fi nerds attending a comic convention in America get sidetracked when they befriend an alien in the New Mexico desert.


What You Need To Know

: Peanut-butter-and-jelly combo

Simon Pegg

and

Nick Frost

star as the nerds, with Frost taking the alpha male role this time, switching up a pretty familiar dynamic. Also changing things will be American Mottola, director of "

Superbad

" and this year's "

Adventureland

" and now looking to branch out into what looks like sci-fi comedy. Normally movies about sci-fi and comic nerds seem shallow and desperate ("

Free Enterprise

" comes to mind), but no one distilled the notion of being a proud nerd quite like Pegg did in co-creating the British sitcom "

Spaced

", so we're willing to give him the benefit of the doubt, since Pegg and Frost collaborated on the script.


Release Date

: With empty schedules this year for both Pegg and Mottola, they have to AT LEAST be able to show some footage at one of the summer's big conventions. Probably 2010, right? But hey, wrote it up already!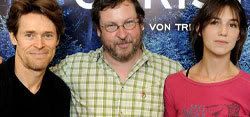 "

Antichrist

" - TBD - Dir.

Lars Von Trier




Synopsis

: A therapist attempts to treat his wife after the loss of their own child by retreating into the woods, where they learn that their child might be tangentially related to the coming of the Antichrist.


What You Need To Know

: Von Trier's first film since succumbing to crippling depression after completing "The Boss Of It All", "Antichrist" will stand apart from the provocateurs previous work in that he's previously stated that he needs to direct a film that makes money. Plot details are scarce, though it's hard to not get the shakes when you consider what a Von Trier horror film would be like, since Von Trier's films feature shocking, wholly unpleasant encounters with characters doing such cruel things to each other that scar worse than any knife. Known for being an abusive tyrant of sorts on the set, he's enlisted two go-for-broke actors in

Willem

Dafoe

and

Charlotte

Gainsbourg in the leads, and while he's promised a commercial English language feature, his films have proven to be so problematically defined by mockery and hatred American politics that its hard to predict what type of film this will end up being.


Release Date

: Rumored to be September 11th (

holy shit

, Lars).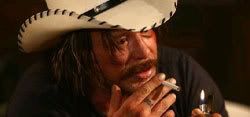 "

13

" - Paramount - Dir.

Gela Babluani




Synopsis

: A young construction worker ends up an unwilling participant in a Russian Roulette league run by wealthy businessmen.


What You Need To Know

: Babluani must always remember the names of George Sluzier and Ole Bornedal. Both were lured to Hollywood for a chance to remake their own films in English. Sluzier's disastrous remake, "

The Vanishing

", is probably a worst-case-scenario example when considering redos, while Bornedal's "Nightwatch", nearly a carbon copy of his original film, was buried for more than a year by Miramax before being dumped onto video. Both returned to their native countries and proceeded to make a number of films that have been roundly ignored by audiences and critics. Babluani is remaking his tense "

13

Tzameti," and lest you think its a coup by casting toughies like

Jason

Statham

, Mickey Rourke, 50 Cent, Ray

Winstone

, Michael Shannon

and

Ray

Liotta alongside young lead

Sam Riley

, remember that "

The Vanishing

" remake had an otherwise pretty damn great performance by

Jeff Bridges

. The original is not an untouchable classic, but it's a tense, affecting thriller, and there's not a whole lot of space for added Hollywood theatrics, so maybe this will be worth seeing.


Release Date

: Currently filming- Fall '09? Wishful thinking?


"

She's Out of My League

" - Dreamworks/Paramount - Dir. Jim Field Smith


Synopsis

: A successful and attractive young lass falls for a normal airport security agent ("

Tropic

Thunder

"s

Jay Baruche

l

). Also stars newcomer

Alice Eve

.


What You Need To Know

: While this may just be another in an unending line of romantic comedies, it'll be interesting to see if Baruchel can give

Justin Long

a run for his money in the lanky 20-something department in his first starring role. This could turn out to be something we'd go see if our significant other really wanted to, or it could be another one to avoid.


Release Date

: Fall 2009


"

Cirque du Freak

" - Universal - Dir.

Paul Weitz




Synopsis

: A boy breaks a centuries-old truce between two camps of vampires, reigniting the clash between them.


What You Need to Know

: Another vampire movie? At least this one has a more palatable cast than other vamp flicks (

John C. Reilly, Salma Hayek, Ken Watanabe

).

Paul Weitz

directs his first film since the failed political farce "

American Dreamz

." Our main concern? Who the hell casts Salma Hayek in a bearded lady part? Isn't there something better for her? Gross.


Release Date

: TBD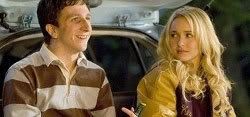 "

I Love You, Beth Cooper

" - 20th Century Fox - Dir.

Chris Columbus




Synopsis

: During his graduation speech, a geeky valedictorian declares his love for dreamgirl cheerleader Beth Cooper (

Hayden Panetierre

). Based on the popular novel by

Larry Doyle

.


What You Need To Know

: You'll see him briefly as Andy in "

Inglourious Basterd

s

," but complete unknown

Paul Rust

will no longer be an obscure

Upright Citizens Brigade

affiliate after 'Cooper'. Expect plenty of hazardous physical comedy, in addition to seeing more of Rust in years to come.


Release Date

: July 10th, 2009



"

Crazy Heart

" – CMT Films – Dir.

Scott Cooper




Synopsis

: Based on

Thomas Cobb

's debut novel, it's the story of a down-on-his-luck, alcoholic country music singer who is able to get his life and career back on track through his relationship and experiences with a female reporter.


What You Need to Know

: Country music uber-producer, T. Bone Burnett, is writing original music for the film, while Jeff Bridges (playing the musician) will be performing original songs. Bridges is no stranger to music in his films, as he starred in "

The Fabulous Baker Boys

" in '89, and even recorded his own version of Johnny Cash's "Ring of Fire" that played over the opening credits in "

The Contender

."

Maggie Gyllenhaal

plays the reporter in the film, and

Robert Duvall

(who is producing this via his production company, Butchers Runs Films) has a supporting role.

Colin Farrell

, hot off his Golden Globe win, is also listed in the credits as a dude named

Tommy Sweet

. Our guess is after the blockbusters that were "Iron Man" and "The Dark Knight," Bridges and Gyllenhaal don't mind making something a little more lazy-hearted.


Release Date

: TBD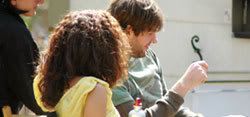 "

Away We Go

" - Focus Features - Dir.

Sam Mendes




Synopsis

: A couple who is expecting their first child travel around the U.S. in order to find a perfect place to start their family.


What You Need to Know

: The film stars

John Krasinski

and

Maya Rudolph

as the couple in question, and features lots of other comedic actors, such as

Jeff Daniels, Maggie Gyllenhaal, Allison Janney, Catherine O'Hara,

and

Paul Schneider

. Being big Sam Mendes fans, we must ask the question, "What is he doing directing a comedy?" He hasn't made an average film yet, and we really don't want him to start. The main problem is the leads. You would've thought that after "

License to Wed

" and "

Leatherheads

," one would understand that Krasinski can't carry a film, and Rudolph (aka

PTA

's baby mama) doesn't help, but the ace in the hole is

Dave Eggers

who co-wrote the scritp. Yet still can't help but wonder if it won't be his "

Elizabethtown

" all over again. Hopefully not.


Release Date

: June 5th (limited)


Honorable Mention/ Things We've Become Too Lazy To Write Full Blurbs About




Richard Gere

and

Ethan Hawk

e

look good in blue chasing down perps

Don Cheadle

and

Wesley Snipes

in the multi-strand narrative "

Brooklyn's Finest

" - it was bought at Sundance despite mixed reviews.

Jared Leto

plays the last dying human in a society of immortals in the $60 million Belgian experiment known as "

Mr. Nobody

." "

The Killer Inside Me

," will

probably

see release in 2010, possibly with a late '09 festival run.

Michael Winterbottom

usually works quickly, which is why we're surprised we'll have to wait two years, but his cast includes

Casey Affleck

and

Jessica Alba

, so maybe a slow '10 launch is a good bet; "

Management

" with

Jennifer Aniston

and

Steve Zahn

is probably predictable rom-com nonsense with an indie bend (only halfway shit), but

Randall Poster

("Rushmore" all

Wes Anderson

flicks) is doing the music supervision, so maybe that will be a plus;

Justin Timberlake

appears in the baseball cum father/son drama, "

The Open Road

";

Ray Winstone

plays a jealous husband who plots the kidnapping of his wife's lover with the intention of revenge in "

44 Inch Chest

" and one of our fave French actors,

Melvil Poupaud

co-stars.


Art House Picks/Films We Wish We Had More Time To Write About


Park Chan-Wook

's follows-up his little seen "

I'm a Cyborg, But That's OK

" comedy romance with "

Thirst

" about a failed medical experiment that turns a man into a vampire; Thai filmmaker

Apichatpong Weerasethakul

("

Tropical Malady

," "

Syndromes And A Century

") returns with "

Primitive

," an experimental film borne out of a multimedia project revolving around apes and his patentend themes of reincarnation and remembrance;

Bela Tarr

follows up 2008's "

The Man From London

" with "

The Turin House

" based on Friedrich Nietzshe's late-life breakdown. It will apparently be the masters final film; Also working at a rapid clip is

Claire Denis

who delivers two films in two years — '08s "

35 Rhums

" (which has a

Tindersticks

score and hopefully comes out in the U.S. in '09) and this year, "

White Material

," starring

Isabelle Huppert and Issach de Bankole; Abbas Kiarostami

(1997 Palme d'Or winner
"
Taste Of Cherry
") brings an unexpected love story with "
Certified Copy
" featuring
Juliette Binoche
; Austrian minster of fear
Michael Haneke
continues his button-pushing exploration of humanity's miserable and misanthropic side with "

The
White Ribbon
," another cheerful project about strange events tied to a German rural school in the early 1900s that involve ritual beatings and potentially promote fascism; other '09 arthouse fare by European masters include
Alain Resnais
("
Les Herbes Folles"
);
Lukas Moodysson
's highly anticipated "
Mammoth
," South Korea's
Lee Chang-dong
("Secret Sunshine") has "
Poetry
" on the way, the ceaseless
Jean-Luc Godard
has "
Socialisme
," the uber provocative Argentinian Frenchman
Gaspar Noé
("
Irreversible
") returns with "
Enter The Void
," about a young man who promises to protect his little sister after the brutal death of his parents. Fun for the whole family, we're sure; Excellent Turkish director
Fatih Akin
("
The Edge Of Heaven
") returns with "
Garbage In the Garden of Eden
"; French stalwarts
Claude Chabrol
has "
Bellamy
" and
Jacques Rivette
has "
36 vues du Pic Saint-Loup
" - whether we see any Arthouse '09 fare this year, possible remains to be seen, but there's always film festivals.

Does this exhaust all the looking forward to in 2009 pieces? Pretty much. We
wanted
to do a
Most Anticipated Scores
piece too and if it's not too late and more than 3 people post in the comments section asking for it, we'll call that a ringing endorsement (hey, we take what we can get).


Written
by Gabe Toro, Jared Weiss, Jonathan Helm, Rodrigo Perez and Christopher Adams