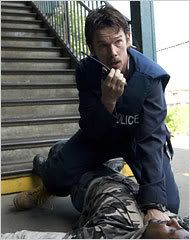 Ironically just a few hours ago, the New York Times' CarpetBagger blog was saying this about Antoine Fuqua's crime drama, "Brooklyn's Finest."

"[Some] film distributors actually hope the movies they view at

Sundance

won't be too commercial

. A chief executive for one such distributor, who spoke on condition of anonymity to avoid tipping his own poker hand, explained exactly that a few minutes before the screening of 'Brooklyn's Finest,' directed by Antoine

Fuqua

('

Training Day

'), on Friday evening.

'I'm very interested in this one,' the potential buyer said. 'I'm hoping it won't be commercial enough for the studios

.'
Does that mean the film isn't very commercial then, because it's
just
been bought by

Senator Films

, the same company that's also putting out the indie, "
The Informers
," according to the Hollywood Reporter for a low- to mid-seven figures.


The reviews on the film have been decidedly mixed. The Times says there was a strong buzz around the film, but ultimately, it's a "pretty much a standard-issue cop drama, like, say, '
Pride and Glory
'," which was pretty forgettable.

Variety's Anne Thompson didn't love it either. She said the film was "a creative noble failure, one of those damn-the-torpedoes passion projects that flounders on its own ambition" (and note she had noble failure in her headline and then later changed it, softening it up a bit, you can tell in the still existing URL name).

The cast stars on Don

Cheadle

, Richard

Gere

, Wesley Snipes, Ellen

Barkin

and Ethan

Hawke

, who Thompson singled out as being "stellar."


Apparently the film is long* though and Thompson says its mixed response included, "both hisses and applause after the finale."

Thompson

also said the film is gorgeous to look at and praised certain elements, but Jeffrey Wells was even less kind. "Forget it," he said in his dismissive headline [*according to THR, the Seantor deal states that Fuqua will still have to do some editing on the film].

"I can't imagine any prospective buyer feeling any genuine enthusiasm for it," he grizzled. "It's a right-down-the-middle, seen-it seventeen-times-before urban crime movie -- bitter cops, angry cops, street

homies

, drugs, shootings,

desperados

, etc."

Even less discerning geek sites weren't exactly kind either calling the film, "brutal, but bloated." Though they ultimately were the kindest, giving the picture a B+ grade (naturally). Still its one of Sundance first big sales, though most oulets failed to note that

Sony Pictures Classics

bought

Carlos Cuaron

's "

Rudo Y Cursi

"

before

it even had a chance to screen at Sundance, but perhaps the deal and numbers weren't high enough for them to really take notice.