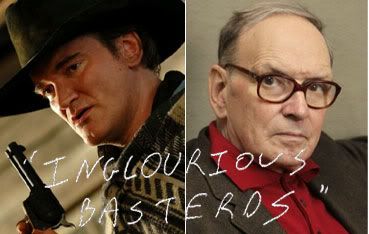 Bad news for Quentin Tarantino, folks looking forward to his WWII epic "Inglourious Basterds," and connoisseurs of sweeping film music, legendary Italian composer Ennio Morricone won't be writing the score to QT's crazy war film.

Instead he's chosen to work with longtime collaborator and "Cinema Paradiso" director Giuseppe Tornatore once again on his new film, "Baaria - La porta del vento." And it stands to figure, Morricone has written the music for every Tornatore feature aside from his 1986 debut, "Il Camorrista"

Morricone's site is in Italian, but the gist of it says that because of his obligations to Tornatore, "the Maestro has had to renounce writing of the sonorous column [music] of the new Quentin Tarantino film."

This shouldn't be entirely surprising since Morricone already said last year that he would write the music, but added the caveats that he might not be able to do it all and he certainly wouldn't be rushed. Obviously, the 'Basterds' production is moving at a super fast clip, so that on-the-horizon scheduling might have proved impossible. In November he warned, "Tarantino will finish shooting the film in February and has to deliver it by the end of April in time for Cannes. That doesn't leave me enough time to do the music. Either I start working on it before he stops shooting -- after we discuss it together -- or I just can't do it."

Honestly, this really sucks. We were looking forward to Tarantino's first movie with an original score, but this doesn't mean he can't pilfer old, already-existing Morricone scores for 'Basterds' like he did bountifully on the "Kill Bill" films (there was at least half a dozen of the maestro's old score songs in those flicks, plus a few in Death Proof" too). Thanks to this Spanish Tarantino website that gave us the head's up. This is the second time Morricone's turned down the director, he also turned down an offer to write some music for "Pulp Fiction" in 1994.

Now let's just hope QT doesn't use hip-hop in the film like he once threatened to.