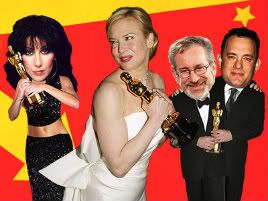 Entertainment Weekly recalls Oscars from Zellweger, "Shakespeare in Love," Coburn and more...

Since it's Oscar season and any worthwhile publication knows to offer something more than just annual predictions (if they in fact know what's good for them), Entertainment Weekly created the "Recall the Gold" project. Seemingly designed to stir up calls of "blasphemy!" and "damn straight!" in equal parts, the project involved sending out re-do ballots to a handful of actors, agents, directors, industry people, etc., asking them to offer up their picks for best acting, directing and picture awards for every fifth Oscar ceremony within the last 25 years.

Many awards were "graciously" re-awarded to those that had won them the first time around, but here's a partial list of actors, directors and pictures that EW's industry insiders decided should have had the award in the first place.

2003
Best Supporting Actress:
Actual Winner: Renee Zellweger, "Cold Mountain"
Recall Winner: Shohreh Agadashloo, "House of Sand and Fog"

1998
Best Picture:
Actual Winner: "Shakespeare in Love"
Recall Winner: "Saving Private Ryan"

Best Actor:
Actual Winner Roberto Benigni, "Life Is Beautiful"
Recall Winner: Edward Norton, "American History X"


Best Supporting Actor:
Actual Winner: James Coburn, "Affliction"
Recall Winner: Geoffrey Rush, "Shakespeare in Love"

Best Actress:
Actual Winner: Gwyneth Paltrow, "Shakespeare in Love"
Recall Winner: Cate Blanchett, "Elizabeth"

1993
Best Supporting Actor:
Actual Winner: Tommy Lee Jones, "The Fugitive"
Recall Winner: Ralph Fiennes, "Schindler's List"

EW's website has a slideshow with a complete run-down of recall's results. We think the "Saving Private Ryan recall is a pretty dead on sentiment, especially given the exorbitant amount of hype "Shakespeare in Love" was receiving at the time (Oh Harvey, remember when you had that kind of juice?). If you've got an opinion on EW's complete results (or just our truncated list), let us know and we'll see if those choices extend beyond the magazine and their panel to the critical sphere.