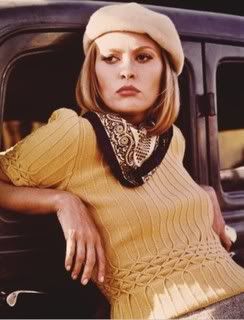 You know the end is nigh when even "Bonnie and Clyde" is being remade.

You know a snowball has frozen over in hell where the remake in question will star tarts like Hilary Duff walking a bank-robbing mile in Faye Dunaway's shoes, playing the role of Bonnie Parker. Kevin Zegers, the nobody who has appeared in "Transamerica", "The Jane Austen Club" and our personal favorite, "MVP: Most Valuable Primate," will play the role of Clyde Barrow.

Hollywood sources told Chicago Sun-Times columnist Bill Zwecker that Warren Beatty and the aforementioned Dunaway both responded with, "Why?" when they heard that director Tonya S. Holly would be at the helm of her own screenplay, "The Story of Bonnie and Clyde." Holly insists that her project wasn't inspired by the 1967 film, but by news clippings she found in an abandoned house on her family's property. Congratulations?

We'll give it to Dunaway for having one of the best comebacks in recent memory. When she learned that Duff would be playing the role of Parker, she allegedly quipped, "Couldn't they at least cast a real actress?" Dunaway obviously never saw The Lizzie McGuire Movie." And you thought "The Dark Knight" got snubbed by the Academy. Geez.

To rinse the bad taste of this stupid project out of your mouth, we suggest you chill out and listen to Serge Gainsbourg and Bridgette Bardot's eponymous song, "Bonnie And Clyde."