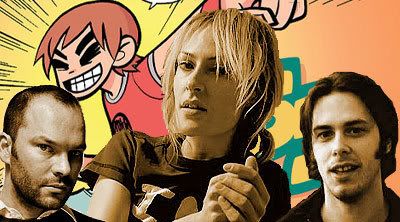 It's rare around these parts that we're excited about a new album. New indie-rock usually bores us to tears these days, however, we'll make an exception for the new Metric album, Fantasies, coming out April 14th, because the first single off the new record, "Help I'm Alive" is actually really great.

According to Rolling Stone, the album is being self-released by the Canadian new-wave quartet, but more interesting to us of course is this throwaway line at the bottom of the piece that says producer extraordinaire Nigel Godrich (Radiohead, Beck) has requested that Metric contribute and unreleased track called "Black Sheep" (revealed below) to Edgar Wright's upcoming graphic novel adaptation "Scott Pilgrim VS. The World" (which has a pretty stellar teen cast).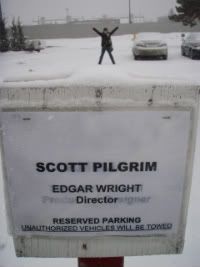 This makes us ask: is Godrich curating or doing the music supervision for 'Scott Pilgrim'? The answer is probably yes. While we haven't heard back any official word yet, we do know that the "Shaun of the Dead" is good buddies with Godrich and for just one example, the producer, the filmmaker, Radiohead and members of Broken Social Scene were caught hanging out in Toronto last year.

Written by Toronto graphic novelist Bryan Lee O'Malley, there's a good bet that Canadian indie-rock will play a decent-sized role in 'Scott Pilgrim' (maybe a Social Scene track too?). Music is integral to the comic book. Book 3 of the series, "Scott Pilgrim and the Infinite Sadness," gave a nod to the Smashing Pumpkins, and the Scott Pilgrim character name comes from a song by the now-defunct, Halifax-based all-girl indie pop band, Plum Tree.

Last year, our friends at L.A. Times blog Pop & Hiss conducted a great interview with 'O'Malley, and he said of Plum Tree, "I loved the band, and they're long broken up. I mean, one of the best things about the books is that I've gotten to speak to the girls in the band, who were my idols in high school." Their piece also does a great breakdown of the graphic novel's musical influences which include his love for lesser known Canadian indie groups like Joel Plaskett, Thrush Hermit, and the mighty Sloan.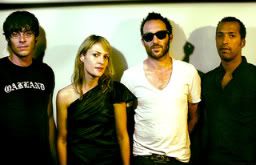 Apparently a lot of the music for the film was already being cleared last summer. "I think that element is going to be really interesting," O'Malley said, "I guess they'll probably be doing a lot of the music in advance because I'm already hearing rumblings of who's doing what, and it's pretty exciting."

Wright previously used a lot of British rock like The Kinks, T.Rex, The Move, Sweet, The Troggs, Arthur Brown, Cozy Powell, Adam Ant and XTC in "Hot Fuzz" and is such a big fan of the Jon Spencer Blues Explosion he asked them to write an original song for the film called "Here Come the Fuzz" (and accomplished musician and director Robert Rodriguez actually wrote some original score music to the film too). Godrich produced all of Radiohead's best albums and some of Beck's best like, Mutations, Sea Change and has worked with Pavement, U2, Ride, Travis, The Divine Comedy, Air and Paul McCartney just to name a few.

The soundtrack to "Scott Pilgrim Vs. The World" could conceivably, be awesome, so we keep our fingers crossed and look forward to more news. Plus we'll dig up everything we can.
Metric- "Help I'm Alive"

This great video epk on Metric's website features lead singer Emily Haines talking about the struggle of making the Fantasies album and features a super lovely, piano version of "Help I'm Alive," that we hope comes out one day. It's beautiful and her solo albums are rad and very cinematic in their own quiet and internal way.

Lastly, here's the Metric song that will appear in the film called, "Black Sheep."


BTW: what weird coincidence. Just as we were writing this we checked the Metric site and there was that gorgeous piano version of "Help I'm Alive" that we coveted. Man, this is our day.