OK

, we're a little retarded and

obsessive

, we know. We've already covered,
The 60-Plus Most Anticipated Films of 2009, t
he 15,

Could Be Potentially Great Escapist Entertainment

Flicks of '09 and showcased the 40-Plus

Least

Anticipated Films of 2009.
So with that in mind, here's 16 films with a foreign and indie bent. You know the drill, there's little to explain here. We're basically going to cover every film ever even thought about in 2009 (OK, not really, but it just seems that way. These films all sound deserving of your time and worth seeking out.
"
Crips

And Bloods: Made In America
" -

IFC

Films-
Stacey

Peralta
What You Need To Know
: From the director of "
Dogtown

And Z Boys
" comes this documentary featuring street-level testimony from current and former gang members of two of the most notorious and violent South L.A. gangs. The doc charts the origins of their rivalries, plus takes a sharp look at the genesis and reasons behind gang culture.

Forrest Whitaker

narrates.

Release Date
: January 23
"California

Dreamin

' "-

IFC

Films - Cristian

Nemescu




Synopsis

: A trainload of U.S. marines bound for

Kosovo

in 1999 are held by a corrupt, small-town stationmaster on a customs technicality in a Romanian backwater. The locals see their guests as tickets to political power, financial advantage and romances, but eventually sparks begin to fly.


What You Need To Know

: Coming from the Romanian New Wave (which brought films like "

4 Months, 3 Weeks and 2 Days

" and "The Death of Mr.

Lazarescu

") the film is a satirical black comedy that was accepted at Cannes in 2007 and one the Washington Post called, "a masterpiece." What's more, this is the talented director's first and final film. He died tragically in an auto accident just weeks after wrapping. It stars Armand

Assante

.


Release Date

: January 23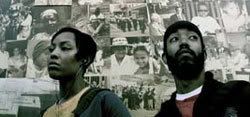 "

Medicine For Melancholy

" -

IFC Films

-

Barry Jenner




What You Need To Know

: A 24-hour love story about black hipsters that are marginalized in very-pasty-white San Francisco which is of course scored to ghostly white, Urban Outfitters compilation ready white indie rock (Au

Revoire

Simone,

Casiotone

For The Painfully Alone). The identity politics theme in the film however make it not a total wash and the filmmaker could be one to look out for.
Wally Cenac

of "
The Daily Show

" stars.


Release Date:

January 30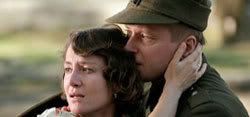 "

Katyn

" - Koch

Lorber

- Dir.

Andrzej

Wadja




What You Need To Know

: The greatest living Polish director alive

Andrzej

Wajda

(RIP

Kieslowski

) is 83-years-old and still at it, what's your excuse? This examination of the Polish massacre at the hands of the Soviets in the

Katyn

forest in 1940 and was nominated for an Academy Award last year (it lost out to "

The Counterfeiters

") and the New York Times called it "remarkable and classical." Two years after its release in Poland its finally hitting U.S. shores.


Release Date

: February 18 (limited)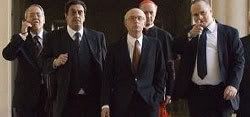 "

Il

Divo

" - No Distributor Yet - Paolo

Sorrentino




What You Need To Know

: Italy's biopic about former Italian Prime Minister Giulio

Andreotti

who somehow weaseled his way into election to Parliament seven times before his ties to the Mafia brought him down, was the talk of Cannes last year and nominated for the

Palme

D'Or

before eventually winning the

Prix

du

Jury. It was called a "masterpiece" by both the Hollywood Reporter and Variety, but both had concerns that the film would never have a far reach outside of Italy. Let's hope that changes and consider this part of the official campaign.


Release Date

: None,

TBD

.
"

Three Monkeys

" - No Distributor Yet - Dir.

Nuri

Bilge

Ceylan



What You Need To Know

: 9 out of 10 times a foreign film that makes the Oscar Foreign nomination shortlist is worth watching. So having just been selected for that prestigious group of nine, we're interested. But this Turkish film about a family that deals with their issues by playing blind, deaf and dumb to problems that should in all logic split them apart, was on our radar last May when

Ceylan

won the Award for Best Director at the 2008

Cannes film festival

.

Release Date

: Last year's 2007 Oscar winner didn't hit stateside until early 2008, so we may have to wait a while.


"

Revanche

" - Janus -

Götz

Spielmann




What You Need To Know

: This Austrian red-light district story about prostitutes and their secret romances has two major things going for it. 1) Again, it's been shortlisted by the Academy for the Foreign Oscar nomination

and

Janus Films

and its sister company the

Criterion Collection

loved the film so much when they saw it at

Telluride

, they picked it up for immediate distribution, a move even they called "unusual." They must

really

love it, so we're sold.


Release Date

: March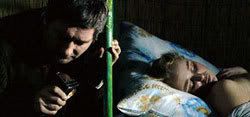 "

Four Nights With Anna

" - TBA -
Jerzy Skolimowski
This

Kieślowski

-an look at creepy obsessiveness by Polish auteur

Jerzy Skolimowski

(the Russian uncle in

Cronenberg

's "

Eastern Promises

," the cult film, "

The

Shout

,") is his first feature in

17 years

and currently has no U.S. Distribution so we hope we didn't miss our only chance to see it when it played at the

New York Film Festival

in the Fall of '08. People seemed to

love

it at Cannes.


Release Date

: There's a decent chance this will never come out in the U.S. which would be a shame. Change that now.


"

The Rest is Silence

" - No Distributor Yet -

Nicolae

Caranfil




What You Need To Know

: In 1912, the Romanian filmmaker

Grigore

Brezianu

and a well-known financial tycoon made a
2 hour (long for back then),
faithful as possible adaptation of the countries real-life independent war. And this comedic drama is a loose and half-fictionalized story of its making. It's noteworthy at least for being the biggest budgeted movie ever made in Romanian film history. Let's not forget that Romanian

filmmaking

is in the middle of a renaissance and on a roll.


Release Date

:

TBD




"

O'Horten

" - No Distributor Yet - Bent

Hamer




What You Need To Know

:
The story about a habitual train conductor on the eve of retirement was Norway's official Oscar selection and while it didn't make the shortlist,
notable filmmaker

Hamer

("

Factotum

" with

Matt Dillon

) and his film were selected for last year's

Un

Certain Regard section of Cannes.


Release Date:

TBD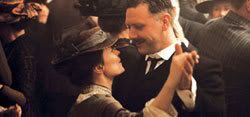 "

Everlasting Moments

" -

IFC Films

- Dir. Jan

Troell




What You Need To Know:
This Swedish film earned itself semi-notoriety this week when Internet dorks with too much time on their hands cursed it up and down on the countries behalf for having the nerve to be the film selected above the Swedish vampire film, "

Let The Right One In

" as its nations Oscar contender. It turns out 'Right One' is eligible for Oscar contention

next year

, but that didn't stop the nerd herd from ripping apart on the Internet shit-talking like, " '

Everlasting Moments? What the fuck is that? A bloody hallmark card or credit card commercial? Fuck this, let's slash the seats!

" Either way, this true story about a young working class woman in the early 1900s, who wins a camera in a lottery, and goes on to become a photographer, has earned itself lots of international praise and sounds definitely worth seeing.
Release Date

: March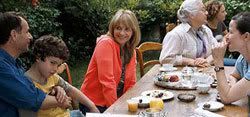 "

Summer Hours

" -

IFC Films

- Oliver

Assayas



The intimate-sounding 'Summer'
— about a family obliged to honor the wishes of their deceased parents — sounds like it could be his first

real

personal film for the sometimes detached

Assayas

(Though "

Boarding

Gate" used that odd gaze to amazing effect). It doesn't hurt that

Juliette

Binoche

stars. She is lovely and immensely talented.


Release Date

: May


"

Adoration

" - Sony Pictures Classics - Atom

Egoyan




What You Need To Know

: Atom

Egoyan's

heady Internet drama stars Scott

Speedman

, Rachel Blanchard (

HBO's

"Flight of The Conchords"), his wife
Arsinee

Khanjian

, (natch) and newcomer
Devon

Bostick

. "Adoration" is said to be cerebral and potentially challenging, and

Egoyan's

been on a losing streak for years, but he is the man that directed the amazing, "

The Sweet Hereafter

," so we hold out hope.


Release Date

: May 8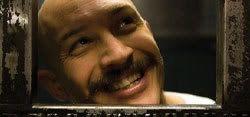 "

Bronson

" - No Dist. yet - Dir. - Nicholas Winding

Refn




Synopsis

: Based on a true story,

Tom Hardy

plays Mickey Peterson, a British prisoner who turns into the psychopathic prison celebrity, Charles Bronson.


What You Need To Know

: A few eerie similarities exist between 2000's "

Chopper

" and 'Bronson' - both involve actors that underwent physical transformations to play hyper-violent, real-life criminals that rose to infamy. This U.K.

Sundance

selection, if picked up for distribution will likely find its way to the very same audiences that "Chopper" found nearly 9 years ago. If you like non-torture porn ultra-violence, this should be right up your alley.


Release Date

: None yet (pending distribution deal)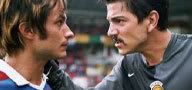 "

Rudo

Y

Cursi

" - Sony Pictures Classics - Carlos

Cuaron



What You Need To Know
:
"

Rudo Y Cursi

," the new comedy teaming up old "

Y Tu Mama Tambien

" pals
Diego Luna

and

Gael Garcia Bernal

as directed by

Carlos Cuaron

(

Alfonso Cuaron

's younger brother and the 'Tambien' writer) is about two dimwitted soccer playing friends recruited to play for rival teams. The soundtrack looks good and features

Juana Molina, Devendra Banhart, Nortec Collective

and many others (Bernal and Banhart are bff
). Sony Pictures classics snatched it up before it even had a chance to premiere at Sundance this week, so that bodes well.

Release Date:
TBD, fall?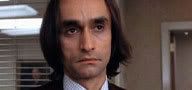 "

I Knew It Was You

" -
TBD -

Richard Shepard


What You Need To Know: Shepard's documentary focuses deep on the vastly under-appreciated '70s actor

John Cazale

, who's short-lived career included the amazing resume of "

The Conversation

," "

Dog Day Afternoon

," '

Godfathers' I and II

' and "

The Deer Hunter

."
Meryl Streep

was the mutual love of his life and h
e died of lung cancer shortly after the filming of

Michael

Cimino

's 'Hunter,'



Release Date

: TBD, but it's a safe bet this one gets picked up quick, but then again, it's only 40 minutes long. HBO?

Plus there's plenty more

good indies

at Sundance too. Consider those part of this too, but we didn't want to double up ourselves too much.