You kind figured this would happen, right? Despite gracing Paramount with 13 Oscar nominations for "The Curious Case Of Benjamin Button," the studio let the rights to David Fincher's Eliot Ness, gangster project, "Torso," lapse.

There's been a longstanding "rumor" that the director and Paramount had butted heads in September over the exorbitant length of 'Benjamin Button' -- then reportedly, three-plus hours long. Their allegedly bitter feud didn't end there and more evidence of their beef started to raise its head - the studio purportedly dropped his remake of the animated "Heavy Metal" movie as a way to punish him. They then apparently kissed and made up, but soon after press reports said that Paramount people were once again sick of dealing with him and his notoriously obdurate ways in promoting 'Ben Button.'

Then his 'Torso' project was jeopardized when Paramount started dragging their heels. The film rights expired December 15th and Paramount was slow to give it a green-light, seemingly toying with the director (Around this time Jeffrey Wells reported that Paramount stalled because they'd rather him make that "Chef comedy" with Keanu Reeves instead).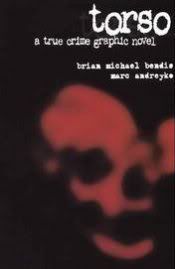 Well as of today and according to the Hollywood Reporter, the rights to the project have officially lapsed. THR seems to blame it on the economy and "tight purse strings," but considering all the aforementioned evidence at hand that seems somewhat dubious.

"But even with the success of

Fincher's

recent 'The Curious Case of Benjamin Button,' the studio allowed the rights option on 'Torso's' underlying graphic novel to lapse, leaving the project in limbo."
Last month:

"Paramount's ability to extend the rights option as part of the original deal expired, which would have then required the studio to purchase the rights outright to retain them -- a price the studio apparently was unwilling to shell out. While the studio still owns Kruger's screenplay, it is in discussions potentially to strike a new option agreement with the

comic's

writers, to whom the rights reverted."
Apparently

Fincher

and his producers are still attached and there could be hope one day, but because of the film's potential costs, the project is off the docket for now. Maybe it is a money issue, but the warring of fall '08 certainly couldn't have helped. We wonder how this will effect the 'Ben Button' Oscar campaign, even if they hated one another Paramount is still highly invested in the film winning awards and recouping its exorbitant costs.

Fincher

, however, is the type of principled person that would cut off his nose to spite his face if he felt he was wronged.