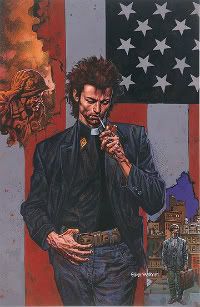 Remember back in November when Sam Mendes said that he would love to direct an adaptation to the graphic novel, "The Preacher," if only he had a script? Well it now appears that the project has taken one more step towards actual development, because John August has been hired to pen the script.

The Burton groupie doesn't exactly have a the kind of track record that makes this comic-book adaptation any more appealing to us, as he was the mind behind "Big Fish," "Charlie and the Chocolate Factory," and "Corpse Bride."

Although he has confirmed that Sam Mendes, fresh off "Revolutionary Road" is still planning to direct, August told reporters that no other details pertaining to the project have been set. "To answer your first four questions: there's no release date, no cast, no locations, no nothing. I'm writing a script which could become a movie if everything lines up correctly."

See you in 2011.