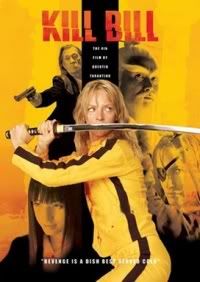 Around the release of "Kill Bill" Part Two, Quentin Tarantino claimed that a "Whole Bloody Affair" Redux DVD was coming out which would include the Cannes cut of the film in one four-hour-plus cut with an intermission. He also talked about a new animated sequence to the movie and even talked about an animated "Kill Bill."

That was some five-odd years ago and everyone knows the director is enthusiastic to the point of wishful thinking and hyperbole. However, in a very recent interview with Tarantino Archives, QT insisted that the "integral" version of "Kill Bill" is eventually coming, but he's been just a little busy with a thing called, "Inglourious Basterds."

The director says that new animated sequence that centers around Lucy Liu character has already been shot and is just waiting to be inserted in the final cut when he has time to supervise it.

"We've actually added some things to it. We did a whole little chapter that I wrote and designed for the animated sequence, that we never did, because we figured, back when it was gonna be one big movie, it was going to be too long, so we didn't do it. So when we were talking about re-releasing it, they asked is there anything you can put in, and I said no I put everything in there, but… there's one sequence that we wouldn't even have to shoot! So we got together with Production IG and did it, and it's really cool. So it's this little seven minute sequence, it's really cool, it's in the O-Ren chapter."
QT archives lists out some of the potential changes in the film (mostly minor, but interesting things like reverting the fight massacre into color), but for the most part it'll be the same exact film in one long-ass version. "It's more like a big '60s movie with the intermission. Oh, you'll just have to see it!" Tarantino said.

Don't hold your breath, but it sounds like it is eventually coming. You'll just need some patience.